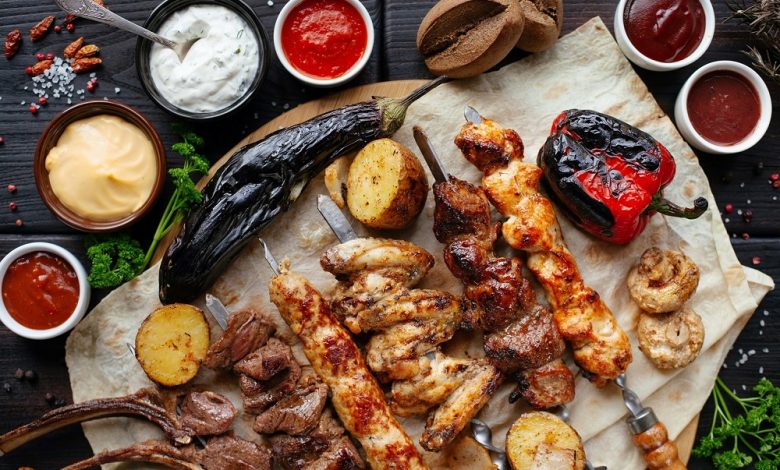 The Aussie barbeque has been described as "an affair where you smack your lips over grub that you'd turn your nose up at in the home" and an experience that's "ingrained into the fabric of the land down under."
Whichever way you look at barbeques, they've been around for a very long time, they have become an Australian way of life, and holidays and barbeques seem to go hand in hand.
But when purchasing a commercial barbeque, what are the different options accommodation managers should be looking for in terms of user friendliness, cleaning ability, safety requirements, commercial warranties, and in terms of longevity of use.
Victoria-based Christie Barbecues has been manufacturing the original, iconic Australian public barbeques for use by the community in outdoor urban and park environments since 1965.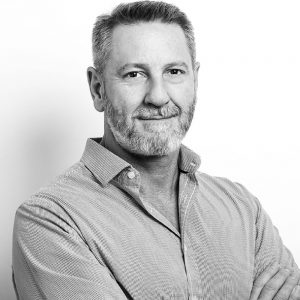 AccomNews spoke with the company's Head of Sales, Paul Conradie who gave his opinion on why some equipment may be more user friendly and easier to clean than others. He also described the key safety requirements for accommodation properties with commercial barbeque equipment and what the latest trends in commercial barbeques are.
What are the different options for commercial barbeque equipment?
Facilities managers can choose between gas and electric powered and domestic or public/commercial appliances. Electric barbeques are more environmentally friendly than gas when powered by renewable electricity, usually require less ongoing maintenance and are the preferred option for powered sites.
Gas is the most energy-efficient and reliable for areas where no electricity is available.
Although generally more expensive, commercial barbeques engineered for public use will last much longer, be safer to use, and require less maintenance than residential barbeques, making them great value for money and cheaper in the long term.
Why is some equipment more user-friendly and easier to clean than others?
Commercial barbeques used in professional hospitality settings contain removable parts like grill plates, racks, and operator functions like temperature control knobs. They are more complex to use and also more demanding to clean and maintain.
Domestic barbeques are cleaned and maintained by the owner, who may only have one unit.
Public versions have very simple operating functions that are easy to understand and operate. They are made from corrosion-resistant stainless-steel materials and are specifically designed to be hygienic, and quick and easy to clean and maintain.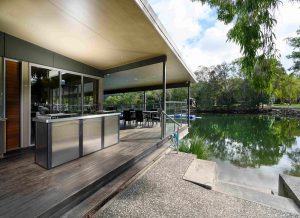 What are your safety recommendations for accommodation properties with commercial barbeque equipment?
A safety delay start means that barbeques can't be accidentally or mischievously started by children. It also prevents power wastage and a 'hot barbeque' hazard.
A cooking surface that is free from sharp angles and corners that may harbour bacteria and is difficult to clean effectively.
A sterilisation cycle to kill harmful bacteria on the cooking surface. This ensures that the food is safe to eat regardless of the cleaning practices of the current or previous barbeque user.
A cooking surface and ignition button that is set above the benchtop to stop children from switching on the barbeque and accidentally touching the hot cooking surface.
A cooking surface that is set back from the edge of the benchtop, out of reach of small children.
A pre-set temperature to stop the barbeque from being left at a very high temperature may pose a safety risk to unsuspecting barbeque users.
What are the new trends in commercial BBQs for the sector?
The recent predominant trends are towards sustainability and inclusivity.
Coal and wood-fired barbeques pollute the atmosphere, and gas is a finite resource. For these reasons, fixed electric barbeques that are powerful enough to mimic the responsiveness of gas cooking, powered by 'green' electricity, are becoming more popular.
Inclusivity means that barbeques should be easy to use by people of all abilities from all ethnic and linguistic backgrounds, and wheelchair users and older people should be able to reach the barbeque cooking surface easily while seated. Simply extending a benchtop will allow a seated person to push their chair underneath the benchtop, but they will not be able to reach the hotplate to cook.
The long-term impact of COVID on shared-use facilities is not yet clear. However, it would be wise to allow a 1.5m 'social distancing gap' between cooktops if users are reluctant to share facilities with other groups.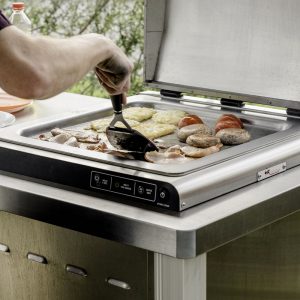 What else would you like to tell our readers?
Commercial barbeques are available at different price points that are generally indicative of quality. As with all products, you get what you pay for. 'Professional' grade appliances and tools engineered for high use are more expensive up-front but are of higher quality and will deliver savings in the long term. They also generally require less maintenance and are built to last.
The manufacturer's after-sales support is also a critical consideration. Buy quality products that provide a good user experience. They will be less likely to fail and are more likely to have parts and technical support readily available in the middle of a busy season.
Finally, COVID restrictions are impacting many local businesses and supply chains. So, I would appeal to everyone to support local jobs and buy from local manufacturers, not 'Australian-owned' companies that manufacture overseas.