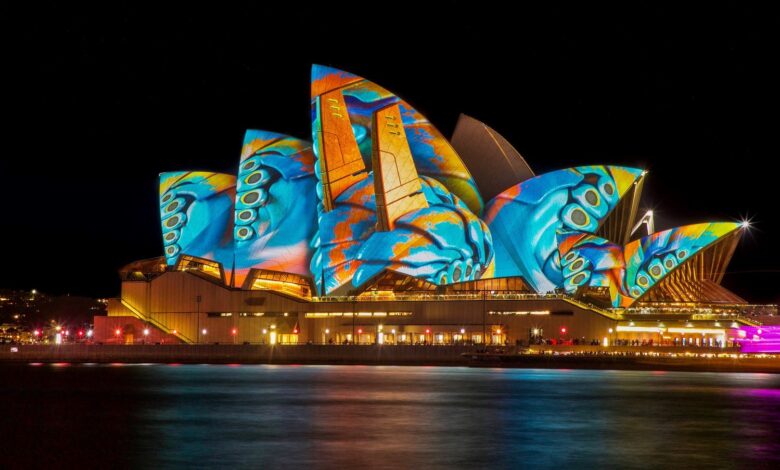 As predicted by industry leaders (AccomNews story May 13, 2022), and underlining the impact staging a major event can have on the visitor economy, newly-released figures show Vivid Sydney Festival 2022 achieved a marked and much-needed boost for the Harbour City's struggling accommodation occupancy levels, CBD-based businesses and overall, a $119 million windfall.
Detailing just how successful the event has been, a statement released by NSW Minister for Tourism, Ben Franklin, said this year's Vivid Festival saw a record 2.58 million people travel into the city from NSW, interstate and around the world to view what is now the largest lights festival in the Southern Hemisphere. 
Our latest AccomNews print issue is available now! Read it HERE
Running from May 27 to June 18, Vivid saw the largest opening weekend ever with 440,000 tourists coming to Sydney, while 2.1 million attendees had a sit-down or takeaway meal, providing a significant boost to local businesses.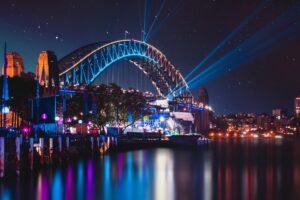 Minister Franklin said the record-breaking attendance for Vivid Sydney 2022 was extraordinary and showed that Sydney had roared back to life after the pandemic. 
"We have seen unprecedented attendance for Vivid Sydney 2022, which is wonderful to see and a clear sign Sydney is back bigger and better than ever," Mr Franklin said. 
 
"The stats speak for themselves and reflect the significant contribution the festival makes to the city's economy with local hotels, bars, restaurants, tourism operators and small businesses all reaping the benefits. 
 
Data released by STR at the time showed that while occupancy remained steady across April, May 2022 figures showed average occupancy at 65.1 percent with average daily rate (ADR) reaching $233.96 and revenue per available room (RevPAR) reaching $1542.32.
But the highest daily occupancy level for the month (82.8 percent) came on May 28, the first Saturday of Vivid Sydney 2022 which saw ADR increase to AUD305.18, up 10.7 percent from the Saturday prior. 
Minister Franklin said almost 30 percent of attendees came from outside Sydney, with a significant portion of visitors then travelling into regional NSW, generating $12.2 million to regional economies.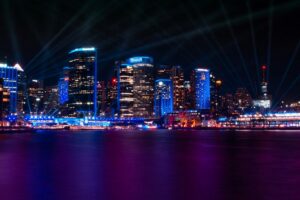 "World-class events like Vivid Sydney are all about helping to boost the NSW economy, create jobs and showcase why Sydney is the best place to live."
 
Vivid Sydney 2022 also won 14 medals at the 2022 International Festival & Events Association Pinnacle Awards which recognise excellence in festival and event promotions and operations globally.
 
Already in plan, Vivid Sydney 2023 is set to offer even more for attendees with the addition of Vivid Food which is intended to  promote creativity, innovation and stimulate visitation to CBD restaurants and venues.
Visitor Economy fast facts for Vivid Sydney 2022
Attendees: 2.58 million – 7.3 per cent above 2019 event attendance
Total nights stayed over the duration of the festival: 567,249
20,434 visitors travelled to regional NSW and stayed overnight, generating $12.2 million in tourism related expenditure 
More than 70,100 attended Vivid Music events
27,942 attended Vivid Ideas events
More than 108,000 Vivid Sydney packages sold
More than 701,000 attendees enjoyed a meal in a restaurant/café/hotel – 24 per cent up on previous record
1 million attendees had a sit-down/take-away meal while visiting Vivid Sydney
More than 72,000 family groups with small children in prams 
8912 mobility participants enjoyed Vivid Sydney
Around 90,000 patrons enjoyed Vivid Sydney from Harbour cruises
Mike Parker-Brown is a UK-trained and qualified journalist and an award-winning travel communicator with more than 30 years experience.
Since 2002, Mike has worked as a freelance writer and PR consultant providing his services to major organisations in Australia and internationally in the tourism, aviation, hospitality, recruitment and export marketing sectors.