Digitally Printed Custom Wall Covering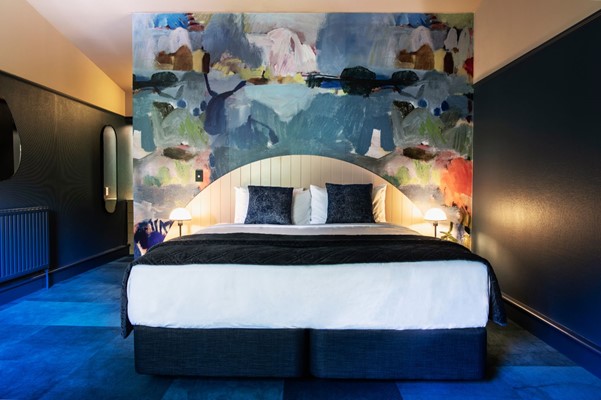 Wall Covering are a highly effective way of personalising design. Whether you're looking for colourful or neutral, patterned or abstract, textured or flat, geometric or floral, wall covering offers many ways to add impact to any space, along with practicality.
The practice of decorating walls to personalise our dwellings has existed for thousands of years, and has evolved most recently to combine style with modern life requirements.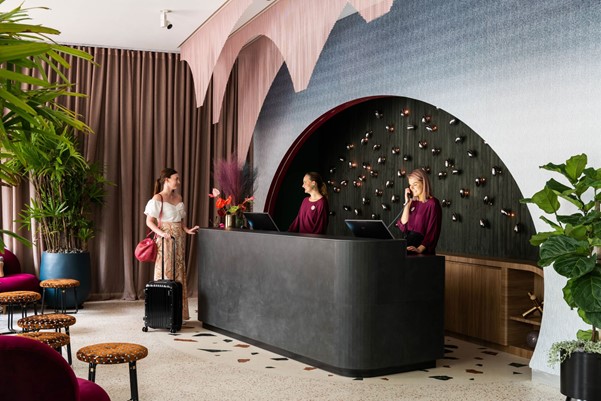 Wall Vinyl Durability
According to lifecycle analysis, wall covering lasts five times longer than paint, under normal usage conditions. Most vinyl wall covering can retain its original beauty and performance characteristics for up to fifteen years, whereas a painted surface must be cleaned more frequently to maintain its appearance and generally requires repainting approximately every three years.
Materialised offer a vast range of readymade plain, textured and sustainable wall covering as well as wall vinyl designs that are printed at their Sydney-based manufacturing facility. Designers can choose from thousands of in-house collections of patterns, textures and colourways that are digitally printed onto Type II, commercial-grade, 20oz wall vinyl substrates.
Colour Trends and Customisation
Materialised's design team frequently help bring a designer's vision to life, through customisation.
"Amazing wall murals and wall vinyl often replace a decorative bedhead and we are seeing many calls for customisation in this area to make the space unique, working with artists local to the property for example," says Belinda Price, Product Director at Materialised.
Ovolo The Valley. Custom wall vinyl by Materialised. Image © Dion Robeson
"Boutique hotels and motels are more daring with their finishes and colours and are experimenting with bold pattern. Their focus is on creative interiors as their customers are expecting a point of difference. We see a big trend in pattern and colour as well as biophilia with nature themes and natural colour palettes being used through local landscapes and florals."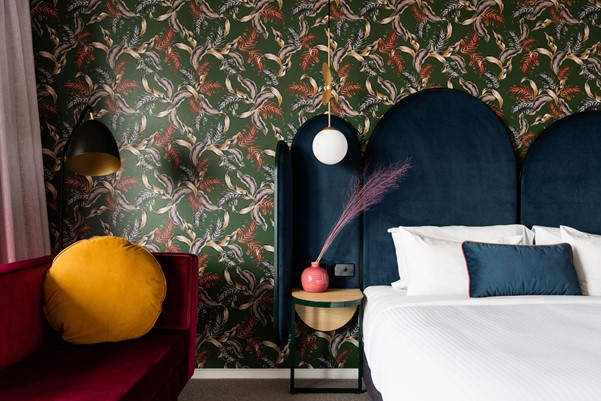 The Central Hotel, Custom Biophilic Wall Vinyl
The Central by Naumi Hotels is an excellent example of customisation. An exceptional, boutique lifestyle hotel in the heart of Queenstown, New Zealand, The Central is a surrealistic sanctuary in the city centre where a creative cool vibe meets a sense of childlike wonder and curiosity.
Paying homage to the surrounding natural environment was a key element of the interior design concept. The client requested that there were to be absolutely no whites or neutral colours. In fact, as a general rule, the bolder the colour the happier the client was going to be.
Designers Undercurrent Studio selected Deborah Moss art to be transformed into stunning bedroom feature walls by Materialised. Deborah's work so closely aligns with the vision for the hotel, as well as the sustainable ethos that Undercurrent practice in the studio.
"My ultimate goal is to create extraordinary spaces for memorable moments. We believe our projects bring a sense of aliveness to the ordinary," says Director and Designer of Undercurrent, Liv Macfarlane.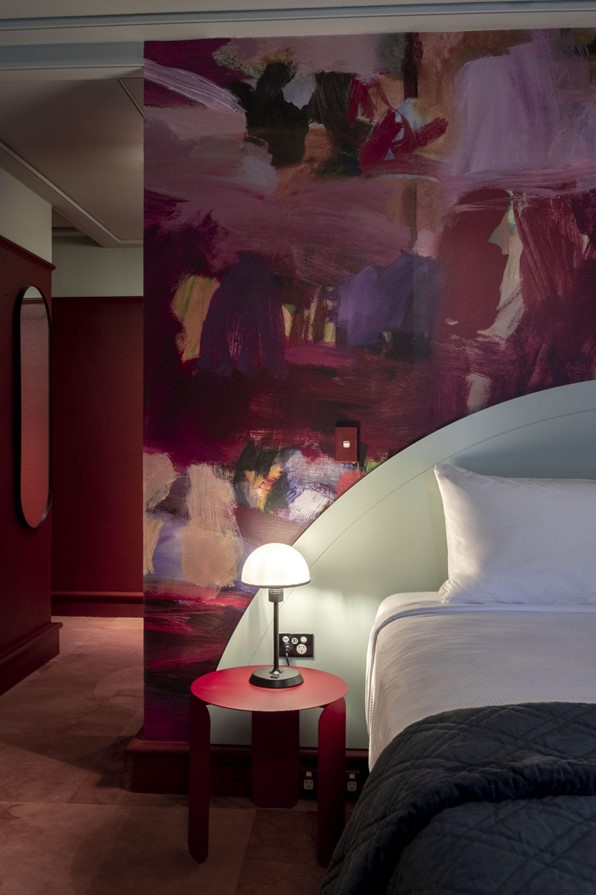 Undercurrent worked with Materialised's in-house team of designers to transform Deborah's artwork onto 'Sandy Bank' wall vinyl substrate, chosen for its smooth texture, durability, cleanability and fire rated requirements for commercial interiors.
Talented In-House Design Team
One design challenge was that the original art was square, so Materialised's Textile Designer, Brigitte Marlot, brainstormed ideas to make a rectangular shape work in a way that was sympathetic to the artworks. "I spent some time making the two images blend into each other seamlessly, and adding 10 cm of bleed to the top and bottom," says Brigitte. "I had to ensure I made the art sing!"
With the prototype approved, Materialised were then able to oversee the digital printing at their manufacturing headquarters in Sydney.
"I am thrilled to see my artworks translated into a dramatic scale and am really impressed with the quality of the colour and details present in the wall vinyl, which mirrors the original works. People seem particularly impressed by the hotel's decision to embrace colour in a really innovative way." – Deborah Moss.
Discover more for your next wallcovering project
Materialised have made it easy for you to access project inspiration and links to sampling with a new digital Hospitality Brochure, designed specifically for you.

For more information please contact:
Belinda Price, Product Director, 
+61 (0)2 8558 3500, [email protected]
https://www.accomnews.com.au/2017/04/every-cloud-has-a-silver-lining/