How Digital Compendiums Keep Your Guests Connected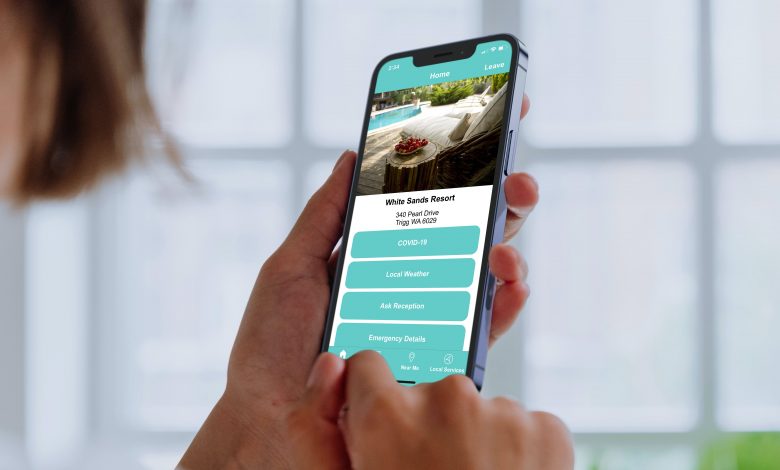 Hinfo is the Contactless Guest Digital Compendium designed to improve communication with guests anywhere they go, while also addressing several issues with other hotel compendium formats.
In this post COVID-19 world, your guests can benefit from individual access, multi-language support with automatic translations and guest messaging, all in an environmentally sustainable and cost-effective way.
Our single mobile app and web-based solution, allows guests to access any member property's details, anywhere in the world.
This makes our membership pricing on par or cheaper than printed compendiums (depending on your room count) by allowing properties to using their share of the communal infrastructure. This is possible while allowing your property to be personalized in your own colours and fonts, to reflect your branding.
Contactless Compendium and Guest Services Solution:
Compared to all other compendium formats, particularly printed compendiums, our Hinfo service does not require investing any time and cost into cleaning each compendium during every guest room changeover.
With billions of smartphones and tablets used regularly worldwide, everyone now has access to a device of their own that they do not share.
Guests can also communicate with your property's reception and management without the need to use other hardware or materials, including support for guest messaging and anonymous property feedback.
Individual Access and Portability:
In addition to being contactless, allowing guests to use their own devices gives them their own individual access, wherever they go, including beyond your guest rooms. This can be either by the hotel pool, on the beach or around town.
If a young family have been out on a morning activity and are looking for somewhere to go for lunch, they can now access your list of recommended local cafes, restaurants, takeaway shops etc. wherever they are, with full details for each including hours and menus, right from their smartphone.
This allows you to have an influence on your guests' overall experience wherever they are, during their stay.
Offline Support:
One of the biggest benefits of an app-based solution, is the ability for guests to save your digital hotel compendium details offline, automatically. This allows guests to access your property details and services wherever they are, without relying on a constant internet connection.
Importantly, this results in a faster, smoother and more engaging guest experience compared to a web-based only solution that needs to constantly redownload details and images.
When guests arrive at your property (or prior to leaving home), they only need to download your compendium details once, which saves internet download from their own guest Wi-Fi allowance or mobile data plan.
Multi-Language Support with Auto Translate.
Hinfo allows your property to provide details in several languages beyond English.
We also offer an 'Auto Translate' service, which is exponentially faster and cheaper than a human translator, while being just as accurate.
This is critical for information updates as you can now update details in multiple languages, in real-time.
Guest Messaging in Multiple Languages
With most people today preferring to send a text-based message rather than make a phone call, the dial 9 for reception days are numbered.
You can allow your guests to send you a message for your reception staff to respond in their own time and guests only need to provide their first name and room number to get started.
Our guest messaging also works with our Auto Translate service, to allow your non-English speaking guests to communicate with reception staff, without needing to visit reception in-person.
Unlimited Information Updates with Automatic Delivery.
Being a digital solution, Hinfo allows you to update your property and local area details unlimited times, with automatic delivery to all of your guest's devices.
This is significantly faster and cheaper than reprinting any number of pages and replacing in each room, manually.
Environmentally Sustainable Solution
Our service significantly reduces the amount of paper required to deliver your hotel compendium details.
When it comes to electricity usage, the average smartphone achieves at least 5 hours of screen on time. This same amount of electricity used to fully charge a smartphone, is consumed in just 7 minutes on a standard LED TV.
Smartphones and tablets are also multi-purpose devices, which eliminates the need for dedicated resources that serve a single purpose.
Cost Effective
With all of the above included and so much more, Hinfo is also cost effective for all property types and sizes, compared to other traditional and digital solutions.
Our pricing equates to only a few cents per room, per night and being fully contactless, it saves you significant cleaning time and costs.
To upgrade your compendiums to our 21st century solution or request a demo, please contact us directly today.
Contact Details:
Hinfo
+61 1300 890 402
[email protected]
www.hinfo.com