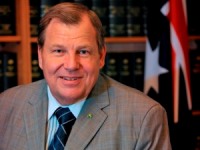 Shadow tourism minister Bob Baldwin has warned the government against selling out Australia's tourism industry as it looks for ways to fund climate change action in poorer countries at next month's talks in Durban.
Mr Baldwin moved to defend the sector after media published details of a report recommending a further $2.4 billion be levied on international travel and other sectors over coming years.
"This is a test for Martin Ferguson who needs to start standing up for tourism, Mr Baldwin said.
"The Department of Resources Energy and Tourism confirmed at estimates that no requests had been received to examine the impact of the carbon tax on the sector. Now, without any thought, Labor appears to be looking to add to the cost of international travel – a move that could cripple our already struggling inbound visitor numbers. Martin Ferguson must intervene before this plan is taken any further."
The report by the Australian National University Centre for Climate Economics & Policy suggests a global fund could be paid for through a carbon levy on international transport, reducing fossil fuel tax breaks, and financial transaction and coal export taxes. The report follows a high-level United Nations advisory group meeting last year thatincluded former Labor minister Bob McMullan. It recommended a range of funding sources, including an international transport tax to meet the global commitment.
"An extra $2.4 billion levy on our inbound tourism sector and others would be disastrous for the sector, barely coming to grips with a ballooning Passenger Movement Charge."