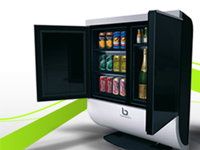 Technology
Bartech celebrates 20 years as mini bar solutions experts
Bartech, a leader in automatic profit-generating mini bar solutions for the hospitality industry,
is celebrating the 20th anniversary of the company this month.
In the early 1990s, Bartech founders Mario Agrario, Marc Cohen and Jean-Claude Tillet identified a need in the hotel industry to streamline mini bar operations and make them more efficient and profitable. In October 1991, they introduced the global hotel market to the first open-display automatic mini bar concept. Today, Bartech offers a wide selection of customizable automatic mini bars that are designed to maximise revenue and save hoteliers time and money through increased efficiency.
Bartech automatic mini bars are currently installed in 53 countries around the world in properties of all sizes, ranging from a 17-room hotel in Japan to the 6500-room CityCenter Las Vegas complex.
"Bartech's hallmarks are technological innovation and forward-thinking design, but what we ultimately sell is customer satisfaction," says Bartech president Mario Agrario. "We listen to our hotel clients to gain a better understanding of their unique needs and the changing needs of the industry as a whole, helping them provide the best hospitality experience to their guests. Bartech has done this for 20 years now, and we will continue to make mini bar operations easier, more efficient and highly profitable for our clients around the world."
Since Bartech's first client, Hilton Basel in Switzerland, converted to automatic mini bars, leading hotels around the globe have been able to reduce their staffing requirements, while taking in additional revenue and eliminating product loss commonly seen with honor bars and manual mini bars. Hoteliers invariably report enhanced product consistency and greater resource efficiency after installing Bartech's automatic mini bars.
Even as the mini bars themselves have changed considerably over the past two decades, the items inside them remain largely similar to the products found in 1991 mini bars, Agrario says. "Guests' tastes in hotel design evolve, but their tastes in snacks really have remained constant," he says. "Guests like to see items they know and have in their own homes, making their stays more comfortable. The best sellers are still water, diet cola and chips or crisps."