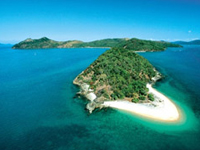 A $30 million Ozone Whitsundays eco-resort and fauna park proposed for the Whitsundays is closer to becoming a reality, thanks to the Bligh government's Growing Tourism Investment Grant program.
Tourism minister Jan Jarratt said the project would fill a growing demand for high-quality, environmentally-sustainable resort accommodation.
"I'm delighted to announce that Ozone Whitsundays will receive $75,000 in Government funding as part of the Growing Tourism Investment Grant program to help get this exciting new project off the ground," Ms Jarratt said. "The resort is planned to include 149 accommodation rooms, central reception, restaurant, bar, shop, two conference centres, wedding area, stables and arena, high ropes course, beach volleyball and tennis courts, swimming pool and children's water activities, outdoor cinema, and walking tracks.
"The proposal also aims to offer guests a unique native-animal experience, a range of soft adventure activities, and opportunities to be involved in endangered species conservation."
The resort's proponents Wendy Bradley and Chris Weigand said the funding would be a real game changer. "We are delighted to receive this grant from the Bligh government. Since our approval in late 2010, we have been working hard to raise the capital we need to construct the resort," Ms Bradley said.
"With this assistance we are hopeful that before too long we will be able to deliver a world class resort to the Whitsundays which will make a major contribution to the continuing growth of tourism in the region."