Case Studies
Keeping the Heritage Alive at Five Star Quality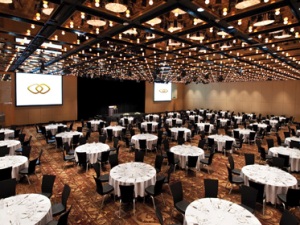 Sofitel Sydney Wentworth presents a contemporary face on an iconic hotel, accentuating heritage features while bringing a fresh and modern perspective to hotel styling.
Built in 1966 as Sydney's first five-star hotel, Sofitel Sydney Wentworth is located in the heart of the city's financial district, close to high end shopping and a short stroll to iconic Sydney Harbour, the Sydney Opera House, the New South Wales Gallery, the Domain and Botanical Gardens.
The 436 elegantly appointed guest rooms include 154 Classic Rooms, 175 Superior Rooms, 62 Luxury Rooms and 45 Prestige Suites. Additional facilities include a dedicated Club Sofitel Executive Floor, fully equipped gym, day spa, stylish restaurant, Sofitel Lounge, Sydney's largest pillarless ballroom and an extensive choice of meeting and events space.
In 2002 the Wentworth came under management of the luxury French-inspired Sofitel brand, resulting in a $60 million refurbishment to modernise and upgrade the whole hotel, while retaining the rich architectural heritage of the building.Sydney's largest pillarless ballroom and an extensive choice of meeting and events space.
Since then the Sofitel Sydney Wentworth has continued to upgrade its facilities to exceed guest expectations, with a further $10 million investment in 2007. Most recently, in December last year, the hotel hosted a two month soft refurbishment of their meetings and events space, consolidating their reputation as one of Sydney's leading hotels. The $1.2 million project involved updating the carpet and wall finishes in the meeting rooms, ballroom and foyer. The audio visual system was also upgraded to state-of-the-art fibre optics and digital signage was created for all the meeting rooms.
"The rooms, ballroom, foyer and meeting rooms were due for a refresh of the space," says Ian Alexandre, vice president of Sofitel Pacific and general manager of Sofitel Sydney Wentworth. "This is all part of the hotel's ongoing commitment to delivering the latest facilities for our guests. In particular the introduction of enhanced technology has enabled business guests to maximise use of both their meeting space and time at the hotel," he said.
Currently the hotel is also updating 154 guest rooms with new carpet and furniture, increasing the guest room size by 2.5m². This $1.8 million project is scheduled for completion end May 2012.
"The heritage considerations that come with such an iconic Sydney hotel make this renovation quite unique" said Mr Alexandre.
"As a heritage listed building, all work must be approved by the heritage council, so we have engaged a specialist heritage consultant to ensure that the enhancements are compliant. For example, this was the very first hotel in Australia to have a water tank built into the wall, so we cannot change that. Also in some of the bathrooms there is a curvilinear wall that mirrors the horseshoe shape of the central courtyard. As a notable design motif of the building and an innovation at the time, these curved walls cannot be changed. Today they still retain the original finishes and fittings from the hotel opening in 1966."
"We are proud that the Sofitel Sydney Wentworth has never put any plans in to the heritage council to date that have been rejected" said Ian. "It reflects our dedication to preserving the history of the building, while continuing to meet and exceed our guests' needs," Mr Alexandre added.
Carmody Group was commissioned by the Sofitel as the project interior designers for the soft upgrade of the guest rooms.
This iconic building, with its famous marble bathrooms required a delicate makeover to enhance the space and overall guest room in line with the unique Sofitel experience. With a reputation for high value refurbishment projects, Carmody Group was asked to complete an uplift of the rooms to create a stronger sense of space and opulence. "Every aspect of the scope of works was designed to create the highest guest impact," says Peter Carmody, the project designer.
A key directive to the interior design scope was to embrace the new room layout created by the project architects that saw the removal of the window joinery. This enabled the LCD to be relocated more conveniently for guests, in front of the bed, fixed directly to the wall. With the hotel hosting many airline crews, great lengths were also taken to ensure the rooms could completely block out sunlight, to enable the crews to sleep during the day. A newly released product from Warrick fabrics saw a triple weave drapery fabric used. Warrick also provided the sheer bed throw and seat cushion fabric.
To add sparkle to the room Carmody Group reverted to Redelman fabrics well known for their wide range of bespoke decorative fabrics for the feature bed cushion fabric. With the support of the Feltex design team, a feature custom designed woven administer carpet was installed.
Ian McKeown, commercial state manager for Feltex Carpets, says 1107 broadloom metres of custom Feltex Woven carpet was designed specifically for the refurbishment. "The contemporary colours and antique style pattern of the carpet is in keeping with the period and style of the hotel," he said.
All Feltex woven products are made from premium wools and combine traditional weaving skills with state of the art technology to add an elegant and opulent finish to the floors," said Mr McKeown. "The quality wool Feltex woven carpet is also a long lasting durable carpet, perfect for a busy hotel."
General painting including a feature wall added for freshness. To appeal to the corporate guest a glass desk with timber return was matched with a contemporary and comfortable swivel leather chair. Final touches involved upgrading the lighting, use of polished chrome fittings and elegantly pleated lamp shades.
Jones Lang Lasalle were commissioned to project manage the refurbishment. Their task says Duane Loader, project manager for Jones Lang Lasalle, included:
• Project management (design, tender and construction) of the heritage listed ballroom and prefunction areas.
• Project management (design, tender and construction) of the design and construction of 154 classic rooms to meet the new Sofitel standards.
This project differed in many ways to previous projects Jones Lang Lasalle had managed explained Mr Loader.
"We were able to work with the hotel and asset manager to consolidate a number of projects into a single package to tender out to trusted contractors," he said
"It involved the council's approval and managing the design so that it didn't affect any of the heritage features of the project. This also eliminated the need for lengthy development applications and ordering long lead time items," added Mr Loader.
"Engaging Jones Lang Lasalle to project manage the refurbishment made a big difference," Mr Alexandre said. "Feedback to date from guests on the refurbishment has been very positive. We've had an increased number of enquiries about the meetings and event space and a lot of our regular guests have been complimenting us on the more spacious, modern sense in the bedrooms."
With 436 stylishly appointed guest rooms, Sofitel Sydney Wentworth also includes a total of 11 flexible meeting and function rooms. These meet a range of needs from intimate boardroom meetings to large-scale conventions, events and banquets.
The magnificent Wentworth Ballroom is renowned for its grandeur and features spectacular chandeliers and a mirrored ceiling. Catering for up to 1200 people, this completely pillar less ballroom is one of the largest in Sydney and is equipped with advanced audio-visual facilities delivered by an in-house audio-visual team.
The third floor of the hotel is completely dedicated to events and features a large foyer area that is suitable for use as exhibition space as well as session break-outs, or pre-function gatherings. Additionally, two executive boardrooms are adjacent to the library and business centre on the lobby level and further meeting rooms are located on level 5.
An urban oasis offering a rare green outlook in the heart of the city, a central garden courtyard is located on level 5. Alongside, the Garden Court Restaurant features modern French inspired cuisine for lunch and dinner in a relaxed bistro style setting. It is also open for buffet breakfast seven days a week.
The Sofitel Lobby Lounge Bar features an extensive list of cocktails, wine and champagne and a modern dining menu. Additional hotel services include a 24-hour reception and concierge, on-site car parking and valet service, Elixr Health and Fitness Club, an Aveda Concept Hair and Day Spa and 24-hour in-room dining.
Both Technology and design
The Sofitel Sydney Wentworth purchased 380 Samsung Hospitality televisions in a combination of 32 inch and 40 inch sizes for the refurbishment. Yardley Hospitality supplied the televisions and the company's managing director Paul Yardley says Sofitel selected the Samsung Hospitality television not only for its stylish design but for its advanced technology.
"Sofitel Sydney Wentworth wanted both technology and design. Samsung's high-quality Hospitality television has been designed to help enhance the value of the hotel room and immerse the hotel guest in a sophisticated and upscale environment," said Paul.
Samsung Hospitality televisions come with a bundle of efficient and convenient features that aims to benefit and meet the ever increasing requirements of the hotel and their guests.
Sofitel also wanted an easy set up. The advanced built-in USB cloning device allows the hotel to easily clone all settings to each Hospitality television in a time efficient method via USB.
The Samsung Hospitality television was compatible with their current VOD systems. VOD cables were also supplied complimentary by Samsung Electronics Australia.
Jack Pack Compatibility is also available with the Samsung Hospitality televisions.
"Usually guests carry a wide variety of electronic devices. The Samsung Jack Pack compatibility solution provides them with a convenient and streamlined way to simultaneously connect an assortment of compatible devices to the television," Paul said
Functionality based on intuitive ergonomics
Sofitel's intent is to combine well-being with the present, the great tradition of luxury with the modernity of contemporary design, materials and technology, in order to re-invent hotel facilities that offer guests what they have every right to expect of a grand hotel at the sharp edge of progress in an ever-changing world.
Guest room functionality is based on intuitive ergonomics, multi-usage technology with innate functionalities that all convey simplicity as it should be seen and understood. On top of this, you have the French touch which is a mélange where each component adds its own flavour, sometimes subtle, sometimes irreverent but always sophisticated.
"When first approaching the Sofitel Wentworth I knew it was always going to be reminiscent of the age old refurbishment dilemma of turning a small 1960s styled room into a luxury international hotel," says designer Peter Carmody. " With its rich marble bathroom and quaint but, yet narrow centre opening bi-fold bathroom doors, these small rooms typified the elegance of a bye gone era. The challenge was how to refresh them in a way that the market would reward the key stake holders."
Carmody Group has a design philosophy that looks very closely at the way guests stay in hotels and from there we focus on building a strong design based on those needs. Having recently completed a guest room upgrade at the Sofitel Fiji Resort and Spa, we found ourselves well prepared to meet the Sofitel international brand expectations of the refurbishment. While there is no getting away from the room size we wanted to create a concept that added space, a degree of sophistication but yet still smart casual and comfortable.
You are more likely to see suited businessmen at the Sofitel so that kind of made the desk our signature item of focus. In collaboration with the hotel management we explored several desk options that would work well in the various room shapes with a common thread being glass and polished chrome.
Of course we approached the design with a strong reference to the cost benefit. Not having met an owner who didn't have a high investment return expectation, we stayed focused on every design decision to have a robust market value. If we felt the guest was not going to benefit, then the item was deleted from the scope. The bed cushion feature fabric is the signature pattern in each room, punctuating the design like a beautiful bow tie and the pleated lamp shades provided for the soft ambient lighting.