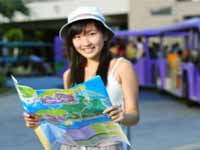 Tourism Australia will focus on four key strategic projects to be funded this year under the Australian government's new Asia Marketing Fund.
The new funding – worth up to $48.5million over the next four years – aims to generate greater visitation and economic returns from Australia's fastest growing tourism region.
Tourism Australia has confirmed plans to accelerate its marketing activities in Asia, to generate greater visitation and economic returns, expected to deliver $19 billion in annualised tourism spending by the end of the decade.
The fund is in addition to Tourism Australia's total annual marketing effort that sees Australia competitively positioned in 18 markets overseas, including the fast growth countries like China, India, Indonesia and South America as well as traditional markets such as the UK, Europe, and the Americas. The first year's funding of $8.5 million will be in addition to $37.5 million already allocated to Asia within Tourism Australia's marketing budget for 2012/13.
Tourism Australia managing director Andrew McEvoy said the new resources would go towards new or further extended marketing initiatives as well as targeted research.
The first year of the new fund will focus on four strategic projects:
• Accelerating Tourism Australia's existing China 2020 Geographic Strategy to target China's secondary cities, to include emerging cities of Qingdao, Chengdu and Chongqing;
• Strengthening its ongoing efforts to rebuild the Japanese inbound market;
• Increased aviation cooperative partnerships between Tourism Australia and airlines serving Australia from Asia; and
• New Tourism Research Australia research, designed to help the industry better understand and engage with Asia.
Mr McEvoy said visitor numbers from Asia had tripled since 1990 while spending by Asian visitors in Australia had grown by 64% since 2000, further highlighting the continued importance of Asia as the key driver of Australia's immediate future international tourism growth.
"This new fund provides an unprecedented opportunity to further drive existing and new marketing initiatives in our fastest growing and most valuable inbound visitor markets," Mr McEvoy said. "Based on Tourism Australia's long term commitment to Asia and the positive response we're getting to our marketing activities, this new fund will help bolster the growth and remain competitive with the more than 100 destinations trying to get the same business."
Tourism Australia will target three new secondary cities in China – Qingdao, Chengdu and Chongqing – in a move which will accelerate its existing geographic strategy of targeting that country's fast growing secondary cities.
"Working alongside our state and territory tourism partners, our initial focus will be to establish a solid distribution platform, including educating and training up a qualified base of travel agents, airlines and operators able to confidently sell Australia. Once this is in place, we will roll out our There's nothing like Australia campaign, which is already performing strongly in other cities in China where we have already established a stronger presence," Mr McEvoy said.
The new campaign creative launched in Shanghai in June has been viewed online more than 20 million times in Greater China alone.
Part of the Fund will also go towards strengthening Tourism Australia's ongoing efforts to rebuild the Japanese market, which is showing signs of a return to growth off the back of strong marketing and an improved aviation environment. Plans include developing a There's nothing like Australia-themed broadcast initiative to engage with Japanese consumers and encourage them to travel to choose a holiday in Australia.
Tourism Research Australia is also receiving funding to conduct a series of research projects, aimed at better understanding Asian visitor satisfaction with Australia as well as measuring the impact of Fund. Part of this funding will also go towards ensuring research and insights are widely shared with industry, including through enhancements to TRA's existing website.