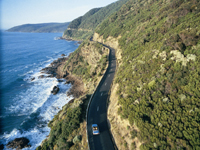 A new development plan for the Great Ocean Road is demanding more resort accommodation be built along to cater for more than 10 million visitors a year by 2030.
The report calls for an additional 3440 guest rooms in the Great Ocean Road region over the next 20 years, including four large resorts, five backpacker hostels, five holiday parks, around 10-12 new hotels, 50 bed and breakfasts and 90 farm-stay accommodation options would be required, the report states.
Priority projects include a $100 million Port Campbell Precinct, a $35 million tourist resort near Port Campbell and a resort at Moonlight Head with 20 luxury suites and day spa.
The report predicts the Great Ocean Road will attract up to 3.3 million additional visitors a year by 2030, including a doubling of international visitors.