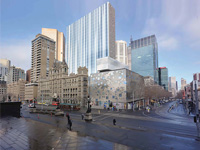 Victorian Civil and Administrative Tribunal, Victoria's planning authority, has quashed the state government's efforts to stop the $285 million redevelopment of Melbourne's historic 19th-century Hotel Windsor.
VCAT senior member Jeanette Rickards ruled in favour of the hotel's owner Halim Group and extended the timeframe for the development can be extended from November this year to January 2015. It is to be complete by January 10, 2017.
Adi Halim applied to the VCAT to review Victoria's planning minister Matthew Guy's refusal to extend the start date for the redevelopment in the permit issued by the former Labor government in November 2010 as the owners waited for heritage approval. The original planning permit allows for partial demolition of the existing hotel and construction of a new 26-storey tower and north wing extension.
Mr Halim had warned that the historic hotel might have to shut its doors and cancel guest and event bookings if the development permit were not extended. The land currently contains the 19th-century Hotel Windsor building and an adjoining 1960s building on the corner of Spring and Bourke streets.
But VCAT this week overturned the minister's decision, ruling it was in the owner's and public interest to ensure development of the iconic building was not rushed.
Ms Rickards informed Halim Group there was no compelling reason not to extend the timeframe.