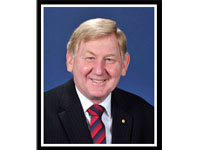 Significant new tourism projects will benefit from a new streamlined process to reduce delays through a new tourism investment facilitation service according to the minister for tourism, Martin Ferguson.
"Increasing tourism investment is a key priority of the Tourism 2020 strategy. Investment in new product is needed if we are to realise our potential of increasing annual overnight visitor expenditure up to $140 billion by 2020," Mr Ferguson said.
"Tourism investment projects often require multiple approvals from different agencies in different jurisdictions because of their multiple-use nature. As part of Tourism 2020, tourism ministers have committed to delivering better investment facilitation services and a simpler, more streamlined regulatory environment.
"The Tourism Major Project Facilitation Service will case manage projects through the Australian government approvals process saving investors time and money by streamlining interactions with Australian government approval agencies."
Under the TMPF significant tourism projects would be granted a case manager to:
identify the range of Australian government approvals required;
facilitate introductions and meetings with Australian government approving agencies;
provide support and expertise on government programs and processes;
assist investors to access relevant Australian government support programs; and
help broker solutions to problems that arise during the course of obtaining approvals.
"This service will offer investors a national tourism investment facilitation service by linking with existing services offered by state and territory governments," said Mr Ferguson. "This will ensure tourism projects that require approvals from both commonwealth and state approving bodies can access an integrated investment facilitation service to minimise delays."
The facilitation service will be available to projects that have a capital value in excess of $50 million and makes a significant contribution to economic growth, exports, employment and/or infrastructure developments.