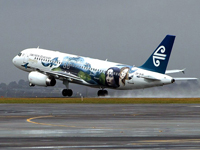 TransTasman travellers will be able to fly directly into the Sunshine Coast from Auckland again next year.
Air New Zealand and Virgin Australia have partnered up again to provide flights between Auckland and Sunshine Coast Airport from June 18 until October 13, five weeks longer than the 2012 season providing an extra 3000 seats. Flights will be on Tuesdays and Sundays. Bookings open today [Nov 21] at $240 one way from Maroochydore and $223 from Auckland one way.
The service has been welcomed by Sunshine Coast tourism operators. Mayor Mark Jamieson said, "All things being equal, the $14.5 million last season generated for our region will increase to nearly $20 million. It justifies our investment into Sunshine Coast Airport's development of an international terminal."
Air New Zealand Group general manager Australasia Bruce Parton said the Sunshine Coast the direct service allowed Kiwis to "winter" on the Sunshine Coast without the one and a half hour drive to and from Brisbane.
Sunshine Coast Destination Ltd CEO Steve Cooper said, "New Zealand is the number one international market for the Sunshine Coast, with 76,000 Kiwis travelling to the region last financial year."
"Almost 90% of the passengers who took advantage of this year's 12-week trial were Kiwis opting for a Sunshine Coast escape, which is a terrific result for everyone involved," minister for tourism Jann Stuckey said.