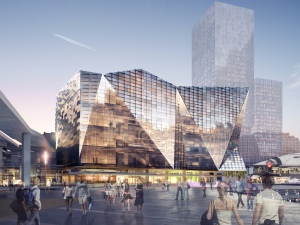 A hotel complex will be a major feature of the Sydney Convention and Exhibition Centre site in Darling Harbour.
There will be up to 900 hotel rooms directly adjacent to the International Convention Centre Sydney, with an iconic location on Sydney Harbour.
The proposal incorporates two hotels in one. The hotels will share core facilities but offer two different price points –upscale and mid-scale. By providing different price points, the hotels will cater for the premium traveller and also offer a more affordable option for delegates.
Lend Lease has won the right to develop the entire Convention and Exhibition Centre project. The builder is part of the Destination Sydney consortium with Hostplus, Capella Capital, AEG Ogden and Spotless – that this week was announced as the preferred developer of the $1 billion project by the New South Wales government.
Opening in late 2016, the new world-class exhibition, convention and entertainment facilities are aimed at ensuring Sydney remains the choice in Australia and Asia Pacific for the competitive – and lucrative – business events industry.
Deputy premier and minister for trade and investment Andrew Stoner said the convention and exhibition facilities will generate $200 million per year in economic benefit for NSW or $5 billion, over the period of the 25-year concession.
The new convention, exhibition and entertainment facilities will be built north of Pier St, while a new urban neighbourhood will be created south of Pier St on the site of the existing Sydney Entertainment Centre and car park.
The consortium will now "work with Infrastructure NSW and enter into a $1 billion public private partnership to design, construct, finance, maintain and operate the convention, exhibition and entertainment facilities", according to Lend Lease.
Lend Lease has also confirmed the PPP capital commitments "are fully underwritten and Lend Lease will invest 50% of the equity alongside Hostplus with debt being provided by a syndicate of local and overseas banks".
AEG Ogden will manage the new facility, to be called International Convention Centre Sydney and will include:
-A convention facility capable of holding four fully separated concurrent events of over 12000 delegates;
-Total exhibition capacity of 40,000m²;
-An external event deck of 5000m² featuring spectacular city views;
-A premier red carpet theatre with a capacity of 8000 suitable for international entertainment, acts and being used for major convention plenary sessions;
-A grand ballroom to provide Sydney's premium banqueting space for more than 2000;
-A new ICC hotel complex with up to 900 rooms.
It will also include 1400 apartments, 15,000m² of commercial space and 7000m² of new retail space.
When complete the complex will become Australia's largest convention and exhibition facilities and Sydney's largest red carpet entertainment venue.
Lease Lease and its partners beat out competitor Brookfield Multiplex. The group will effectively "book end" the redevelopment of the Darling Harbour precinct, from Barangaroo South, at the northern end, to near Haymarket, in the south of the city.