News In Brief
Australians continue to shun the great Aussie Christmas holiday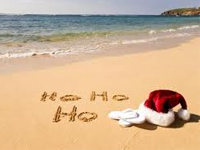 Australians discarded domestic holidays throughout the 2012 Christmas holiday season in favour of international destinations such as the US and South East Asia, according to data from HotelsCombined, the world's leading hotel search engine and price aggregator.
Hotel bookings decreased significantly to a number of Australian locations including Port Stephens (down 44%), Kiama (down 81%), Terrigal (down 72%), and Hervey Bay (down 48%) compared to Christmas 2011.
South East Asian bookings in Bali, Singapore, Phuket and Bangkok stayed steady, while impressive growth was seen in Phnom Penh (420%), Boracay (88%), Koh Samui (85%), Koh Phangan (83%) and Nha Trang (88%). Japan was also an extremely popular destination with Tokyo and Osaka experiencing 95% and 94% growth.
Hotel bookings in the United States grew significantly with New York City, Honolulu and Las Vegas increasing by 77%, 43% and 35% respectively. London, Berlin and Paris bookings stayed strong and there were significant spikes in bookings in standalone destinations including the Cook Islands (138%), Mumbai (138%), Abu Dhabi (92%) and Vancouver (90%).
The only Australian destinations which experienced increased activity were Noosa (up 45%), Mooloolaba (up 44%), Busselton (up 38%), Hamilton Island (up 16%) and Margaret River (up 39%). Tasmania also experienced a surge in popularity with a 15% increase in bookings. The Apple Isle has recently featured on a noteworthy travel lists, including Trip Advisor's list of the top 10 global destinations on the rise.
HotelsCombined insights and analytics expert, Paul Hayden, said: "Christmastime has become, for many Australians, a chance to escape and enjoy a summer getaway rather than partake in the traditional family get-together. The ongoing strength of the dollar is the main factor for the significant upsurge seen in international hotel bookings over this period. Whether it's heading to exotic and adventurous locations such as Phnom Penh or visiting major global cities to make the strong dollar, the upward trend in overseas travel looks set to continue well into 2013."