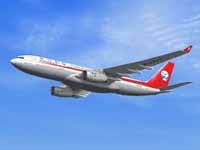 Sichuan Airlines will start direct air services between Chengdu and Melbourne from the end of February, flying three times per week.
Tourism Australia managing director Andrew McEvoy described Chengdu "one of China's fast emerging secondary cities".
"And as the largest aviation hub in central western China, it has huge potential for us to open up new markets within China," he said.
The flights are the result of a sister relationship agreement between between Melbourne and Chengdu airports last year.
And China Southern Airlines' first scheduled service from Guangzhou to Cairns began on 30 January. It is part of three times a week scheduled flights the airline is trialling until 21 March as well as seven charter services. Other flights into Cairns from China are three a week by China Eastern from Shanghai and a daily Cathay Pacific service from Hong Kong.
Cairns Airport chief executive officer Kevin Brown said it was hoped the success of China Southern's A330 Chinese New Year services, with capacities of between 260 and 300 passengers, would lead to more scheduled services from the airline.
"In October 2012 China Eastern introduced their regular direct flights from Shanghai to Cairns and they have proven popular," he said. "China Eastern initially planned a trial period until the end of March 2013 and has already extended this through to September."