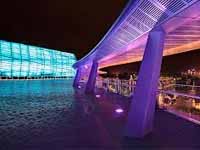 News In Brief
Corporate events score an entertaining array of international acts
With the opportunity for an international act to be a part of your corporate event, expect to be inundated with RSVP's prior to the deadline, according to Sydney events and entertainment destination, The Star.
The Star is combining corporate events with mainstream entertainment options to enhance the event experience further than ever before. With the opening of the state-of-the-art $100 million Event Centre designed to fill a void in the Sydney conference, convention and banquet market, the multi-purpose venue transforms corporate events with a range of entertainment options, making the best of both worlds.
With flexible design features, The Event Centre can suit domestic and international meetings, seminars, trade shows, exhibitions and award ceremonies as well as concerts by A-list performers from around the world.
John Farnham led a series of consumer events to launch The Event Centre, playing two sold out shows to over 3000 guests per night, 24 and 25 January 2013. A corporate function being held at The Star on 25 January, had the opportunity to delight guests post-conference in a VIP suite to watch the legend perform – a suitable conclusion to an intense strategy session. The group added this entertainment activity on to their conference schedule during planning discussions with The Star Sales team.
Jakki Temple, executive director of sales hotels food and beverage at The Star is enthused by the opportunities this seamless combination of entertainment and corporate events offers clients. "The benefits of holding a corporate event at one of the unique event spaces throughout The Star mean that our clients can link with entertainment options without shuffling guests around the city.
"Our sales team is keen to provide a host of opportunities that can add to and enhance a conference, meeting, incentive or special event. Clients can combine a meeting in one of The Darling's penthouses with War Horse, opening in March at The Lyric Theatre or once finished a corporate lunch at Sokyo; guests could enjoy Jeff Chang in The Star Event Centre, known as the "Prince of Love Ballads" in the Asian pop world," said Ms Temple.
Upcoming entertainment opportunities include the Australian Academy of Cinema Television and Arts Awards in The Event Centre, the Superbowl XLVII at 24/7 Sports Bar, War Horse at The Lyric Theatre, or one of the many internationally renowned DJ's spinning the decks at Marquee.