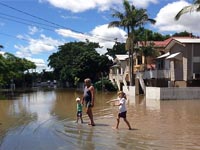 News In Brief
Strata residents and owners need to know their rights
Thousands of Queenslanders who own strata title properties affected by floods over the last week are facing a potential insurance nightmare.
Strata Community Australia (Qld) says strata communities affected by last week's floods will suffer in the same way as they did in the 2011 January floods, because insurance issues have not been dealt with. And the severe flooding over the Australia Day weekend may be a case of history repeating itself.
The key issues, according to Simon Barnard, SCA (Qld) president, are to do with the processes for filing insurance claims in strata communities. "Flood insurance is held by the body corporate committee of a strata community, not individual owners. This means that any claims and resultant repair work needs to be approved by all members of the committee before it can commence.
"After something as traumatic as a flood, people want to be back in their homes as soon as possible. As landlords, owners also have health and safety obligations towards tenants and can face rent shortfalls if properties are not restored in a timely manner. Unfortunately, if you're waiting for a committee to approve all decisions, this becomes a much more time consuming process."
SCA (Qld) is encouraging owners to participate and respond quickly to allow speedy repairs. "SCA (Qld) is approaching the state government to change to this process in circumstances like the floods," Mr Barnard said.
The organisation is also encouraging all body corporate committees to ensure they read their policies and claim to the full extent of their cover. "
It's important that you know your rights. Insurance companies are there to assist you when you're at your most vulnerable, but as we all know, particularly after a natural disaster where thousands of people are making claims, insurance companies may be slower in providing what is rightfully yours. Earlier this year we saw reports of the Financial Ombudsman overturning hundreds of rejected insurance claims from the 2011 floods. We will be advising all of our members to contact the Ombudsman immediately, if they feel they aren't being treated fairly this time around," he said.
"We also hope the newly formed State Government Queensland Flood Appeals Committee chaired by deputy premier Terry Mackenroth will treat strata community damage just as seriously as individual owner's homes," Mr Barnard said.