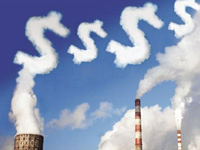 The carbon tax will cost the accommodation industry almost $115 million in just its first year and reduce profitability by up to 12%, according to new AEC Group research commissioned by Tourism Accommodation Australia.
TAA managing director Rodger Powell said the accommodation sector is struggling with the impact of the new tax. "The additional costs imposed on hotels from the carbon tax are coming straight off the bottom line," Mr Powell said.
"The ultra-competitive nature of the industry means that operators can't simply pass on their increased costs to consumers. This is compounded by the fact that price competitive international destinations are not subject to a carbon tax by their governments."
The report states that the carbon tax poses a significant risk to accommodation investment.
"The report estimates the impact on hotel profit margins and a resulting less positive outlook will cause the value of a benchmark 200-room hotel to fall by up to 16.5%. This is a major concern to the industry, which is desperately seeking new investment in new and upgraded accommodation properties. Tourism Australia is spruiking Australian tourism investment opportunities overseas but concerns about generating returns is putting projects at risk.
"TAA's position is that this inefficient tax needs to be repealed to put Australia's accommodation industry back on a more level playing field with international competitors and other investment classes and to facilitate opportunities to attract new investment in high-quality accommodation stock."
In a press release, the shadow minister for Tourism, Bob Baldwin said the Gillard government's commitment to support and invest in the tourism industry has been quashed by this report.
"Labor's Tourism 2020 strategy says the government will increase the attractiveness of investment in tourism assets, but you don't do that by making those assets less profitable," Mr Baldwin said.
"Tourism investment in Australia is lagging and the industry needs a government that wants to support it, not one that just wants to tax it," Mr Baldwin said. "The problem with the Gillard government is they just don't understand the impact their new taxes have on the business model of tourism operators.
"It's simple – if you make accommodation businesses less profitable, fewer people will be willing to invest in them."