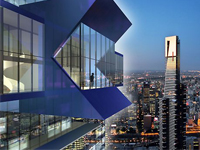 Two major accommodation projects have been announced for Melbourne this week and, if accepted, one could lead to the city having the highest hotel in the southern hemisphere.
Architectural firm Nonda Katsalidis has planned a five-star hotel that will tower 108 storeys above the city.
Nonda Katsalidis, that created the Eureka tower, has designed the proposed Australia 108 building for Southbank that would feature a number of triangular shapes jutting out from the building "inspired by the Southern Cross stars".
Victoria's planning minister Matthew Guy will have to make a decision on the Southbank project but already the Melbourne City Council maintains it is too big and inappropriate.
Menwhile United Asia Group hopes to start construction on a proposed 400-apartment mixed-use development on Flemington Rd by the end of 2013.
The $160 million development in North Melbourne will comprise three towers of 13 storeys.
"We are confident based on our initial market response and aim to launch the project by June-September this year," UAG director Nicole Chow said.
The as yet unnamed project will have four retail outlets on the ground floor totalling 465m².
Some of the building's 173 one-bedroom and 227 two-bedroom units will overlook an internal garden designed by SJB in association with renowned landscape designer Jack Merlo. It would also have a gymnasium, spa and
sauna facilities at the lower level and a pool, garden and barbecue terrace on the rooftop, Ms Chow said.
UAG's $95 million, 92-apartment Emblem complex in Hawthorn is expected to be finished in October.