Big Small Business
What are the highways to our tourism disaster? Just how do we turn these around?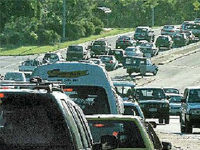 I hate having to write negatively about our industry, the way it is run and what is so wrong about it for the press so often take a negative angle – sensationist captions and text gets read. Boring, same as, we are doing okay or more, does not often get read and talked about.
But as a warning to governments of all shapes and sizes, if you want our tourism industry to grow, provide more employment and nurture our economy, for God's sake listen and take action.
The caption that I have used came almost directly from the Sunshine Coast Daily. It once again, or more importantly for the umpteenth time, rightly castigated governments federal and state for leaving so many of our Easter visitors to suffer a three-hour and more crawl back to Brisbane from the Sunshine Coast on Easter Monday. In NSW after the Christmas break there was a 23km queue to pass through Kempsey – where at least a bypass is being built. Here we have some 80kms of bumper to bumper traffic not only over Easter but often in the morning and evening, weekdays and weekends. And there is no alternative given the poor rail service, and the present lack of good air services into the Sunshine Coast from our northern NSW and Queensland neighbours.
The tourism industry has been pleading ever since I have been attending meetings of our RTO and LTO for more than 10 years to do something about this. In desperation I suggested to our local state member that a toll be put on the Bruce Highway and work start immediately on an extra lane, to which the predictable answer was that he would be out of a job. To a certain extent I can sympathise with him; Queenslanders hate toll roads and often seem to prefer sitting in traffic jams rather than fork out the odd $4 to save them fuel, running costs, agro, a larger likelihood of accident, time and extra costs for delivery of goods. It is time that government educates the travelling public in the true costs of poor transport infrastructure, and puts up the funds (our taxes) to sort out this mess.
So that's bitch Number One.
Once again the same paper on the next page writes, "Workers, businesses miss out with Easter closures". Penalty rates has always been one of my bitches, having come from an industry that operates 24×7 – the printing and publishing game. In that article two of my mates, one a prominent politician the other a highly successful business woman turned restaurateur gave vent to the damage these penalty rates cause. The successful restaurant located just off the Bruce Highway was closed throughout the Easter break because "it was too costly to operate". The politician had surveyed businesses for their views and found that "more than 20% cut their opening hours, 45% reduce staff hours, 55% reduced staff numbers and 80% of owners worked more themselves to avoid the penalties".
So now you know why we kept our B&B to three suites when we opened 14 years ago, when I had built one of our non tourism businesses up to 150 staff. We just did not want the hassle.
And for number three: Why tourism may not be a good investment now and is unlikely to provide the employment and economic benefit to the country. Let's have a look at how many B&Bs, cabins, hotels and restaurants are either under bank administration or have been on the market for sale for the last year or two. Up in our beautiful Sunshine Coast hinterland, few B&Bs and cabin/cottage complexes have opened recently, very few have sold at auction regardless of their success, number of tourism awards gained, profitability or otherwise. Right now the investment demand is just not there.
Yes of course the market is cyclical but government needs to do much more than assist with additional funding for marketing and getting politicians, government and the private sectors working closer together as the present LNP Queensland government is doing. For much of the essential infrastructure now urgently required for upgrading roads, rails, ports and airports, if the government is not prepared to use its cheaper funding option itself then the sooner a well structured public private partnership for upgrading the Bruce Highway is formed the better.
For changing the iniquitous penalty rate regime, we hopefully await the result of the next federal election and, for any meaningful change in much of the tourism accommodation market, there has to be more certainty in the overall investment market to unlock the vendor/buyer market towards an adequate return on investment into the tourism industry.