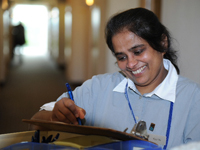 Accor, the largest hotel operator in Asia Pacific, is on the hunt for 30,000 new employees by 2016 as the group continues to rapidly expand its network.
With hotels covering the full spectrum from budget to luxury, Accor already employs close to 60,000 people in the region and offers its staff one of the best places to work in terms of training and development, career progression and mobility.
With operations in 16 countries across Asia Pacific, Accor's main recruitment drives will be in China, Indonesia and India, but the group is seeking a range of positions across all regions including Singapore, Thailand, Japan and Korea. Accor currently has over 550 hotels in the region and with more than 250 in the pipeline for the next three years, the opportunities for growth are immense. The strong growth of Accor hotels in Australia is likely to produce 2500 new roles by 2016.
"The profiles we are looking for are mainly entry level staff for our front office, food & beverage, kitchen and housekeeping departments, which constitute the heart of our hotels," said Patrick Ollivier, senior vice president human resources Asia Pacific.
"But we are also recruiting experts to join our sales, distribution, marketing, finance and HR teams and experienced hoteliers to manage our hotels. There are numerous opportunities for young, passionate and experienced professionals looking to embark on an exciting adventure and a real career path."
With the hospitality industry suffering a shortage of staff and a fierce battle to recruit the best talent in the region, Accor provides world-class training and career opportunities for its staff.
The hotel group presents itself as one of the world's leading hotel schools, with 17 accredited Academie Accor campuses around the world and more than 250 innovative training modules available for its staff.
The company invests enormous sums into improving the skills and professionalism of its employees and fosters rapid career development.