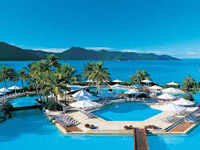 Hayman Island in the Whitsundays, originally developed in the 1950s by Reg Ansett, is to be sold to billionaire South African hotelier Sol Kerzner.
It is understood that the Malaysian-based Mulpha Australia Ltd that bought the 292ha island in 2004 has reached an agreement with Kerzner International Holdings to take over the lease of the resort. The Cape Town-based Kerzner operates seven One&Only branded resorts in the Indian Ocean and Africa, Arabian Gulf, the Pacific and Caribbean with a further three due to be added.
Kerzner plans to close the resort for three months in January to implement a $40 million refurbishment.
The island will be relaunched in April as a One&Only resort. Under the changes the number of rooms will be reduced from 209 to 160. A new lounge area will be introduced around the adults-only pool with day beds and cabanas, a new beauty salon beside the health spa and a new state-of-the-art gym with personal trainers.
There will also be a new One&Only kids club where children will be encouraged to engage with and learn about the natural environment.
Gold Coast firm DBI Design has been recruited to undertake the interior design work and landscape architecture in partnership with Kerzner's team.