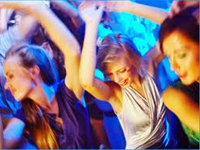 The Gold Coast remained the overwhelming favourite destination for Schoolies Week, with schoolies.com expecting around 30,000 young holidaymakers to arrive on glitter strip for this year's celebration starting in less than six weeks' time.
Schoolies.com CEO Matt Lloyd said that despite recent negative publicity about the Gold Coast and claims that a growing number of Schoolies were favouring overseas locations, Surfers Paradise had lost none of its lustre as the nation's most popular Schoolies destination.
"There is no doubting the Gold Coast's popularity for Schoolies – they keep coming back in massive numbers and this year will be no exception," Mr Lloyd said.
"You only finish year 12 once in your life and the Gold Coast is synonymous with Schoolies so that's where the vast majority of kids want to be celebrating with their mates.
"It has the great location, great events and great friendly atmosphere that continues to attract huge numbers of Schoolies year after year," he said.
As the experts in Schoolies holidays for more than 25 years, schoolies.com has this year launched a "Secret Schoolies Hotel" allowing last minute guests the opportunity to save huge dollars on their Schoolies holiday.
For Schoolies who don't mind a bit of mystery or thought they couldn't afford a Schoolies holiday, rates start from a low $399 for seven nights based in a central Surfers Paradise hotel close to all the action, the only catch being they won't know exactly where until after they have booked.
"While it is always a good idea to book early to avoid missing out, the Secret Schoolies Hotel is a fun option for those who have left things to the last minute and who enjoy a bit of mystery and a great bargain," Mr Lloyd said.
All schoolies.com customers enjoy a range of exclusive benefits such as supervised events, Schoolies photo ID, comprehensive security arrangements at accommodation, 24-hour helpline for students and parents, financial security and more.