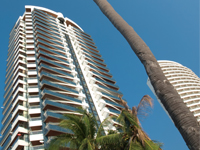 Resident Manager's Licence or Full Agent's Licence?
Resident managers have a few options available to them as far as licensing goes.
The resident letting agent licence is the most common licence as it allows you to rent out managed units as well as operate a trust account. The restrictions with this licence are that you must reside full time in the complex you manage. The principal place of business must be located in the complex you are letting. You are unable to make sales of any units within your complex.
In order to obtain your RLA or resident letting agents licence, you must first complete six units of competency through a registered training organisation. This is usually a two-day course that can be completed in class or via correspondence.
These include:
BSBSBM406A Manage finances or BSBSMB406A manage small business finances
CPPDSM4006A Establish and manage agency trust accounts
CPPDSM4007A Identify legal and ethical requirements of property management to complete agency work
CPPDSM4010A Lease property
CPPDSM4015B Minimise agency and consumer risk
CPPDSM4016A Monitor and manage lease or tenancy agreement.
Once you have successfully completed your studies your registered training organisation will issue you with a statement of attainment which together with a PAMD form 1-3 (application for resident letting agent's licence) needs to be submitted to the Office of Fair Trading Queensland. The form can be downloaded from their website.
There is also a requirement to provide the OFT written proof of body corporate approval that you can carry on a letting business within the complex.
More and more managers are deciding to obtain a full real estate agents licence for a number of reasons:
The ongoing cost of the RLA and the full agents licence are the same
The full agents licence allows you to make sales adding significant extra income
You are able to rent properties and make sales outside your complex
You are able to reside offsite (with body corporate approval)
The majority of complexes are run as a family business and the Property Agents and Motor Dealers Act states that anybody that offers anything for sale or rent must be licensed, so that would need both husband and wife in most cases to hold an RLA.
The new wave of resident managers are becoming more entrepreneurial, wanting to make sales and rent other properties outside their complex so they opt for one of them to hold a full agents licence and the other to have a salespersons certificate.
Not only is it cheaper to do so in ongoing licensing fees to the office of fair trading but it give way more scope in your business.
You may be advised by your solicitor or accountant to obtain a corporations licence as part of your risk management strategy. You can only apply for a corporations licence after you have obtained your individual licence.
Some resident managers have even completed real estate traineeships known as a certificate iv in property services, this qualification will allow you to apply for either licence, the RLA or the full agents licence and government funding of up to $4000 could apply so ask your registered training organisation if you are eligible.
Click here to download the full Tips on Training