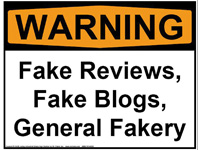 Giant travel insurer Cover-More may be the latest company to run foul of the Competition and Consumer Act by allegedly offering the lure of cash prizes for positive reviews. It is claimed that a two-month Cover-More promotion enticed customers to share their "positive experiences" on the leading customer feedback site productreview.com.au in return for the chance to win $1000 each month.
Prior to the promotion there was no reviews of Cover-More but following the promotion nearly 350 positive reviews were published, even after Product Review rejected many for being "overly positive", according to News.com.au.
A Cover-More spokeswoman said it had "external legal advice that our 2012 promotion was compliant with the prevailing legislation".
Product Review data manager Josh Berriman told News.com.au it had stipulated future Cover-More promotions give all an equal chance of winning, regardless of whether the review was positive or negative. Cover-More denied Product Review had taken issue with the promotion.
State fair trading authorities across the country, backed by the ACCC, have demanded more than 40 businesses substantiate testimonials on their websites.
The Office of Fair Trading is warning Queenslanders about bogus online testimonials. Fair Trading executive director Brian Bauer said false testimonials were a breach of Australian consumer law.
"Accurate customer reviews and testimonials play an important role in online consumers´ decision making," Mr Bauer said. "Consumers are entitled to expect reliable and independent information about a product or service."
An inquiry by the OFT and other consumer protection agencies has resulted in more than 40 businesses across Australia being asked to substantiate that the claims made on their websites are genuine.
The Queensland Office of Fair Trading has commenced an investigation into five businesses where testimonials that may contain false or misleading information were identified. These businesses were served substantiation notices, ordering them to demonstrate that the representations made are honest and accurate.
Mr Bauer said the restaurant, real estate and alternative health care sectors are particularly prone to the publication of bogus reviews on a variety of services and products.