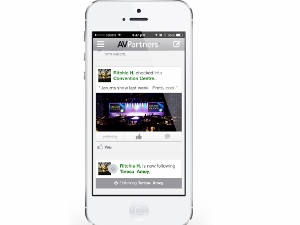 Hamilton Island is the latest business events destination to launch an innovative event app – [email protected] – thanks to leading audiovisual provider AVPartners.
Drawing on the latest innovations in app technology including gamification and social media tools, the app is provided through a partnership between AVPartners and American mobile event app developer DoubleDutch. [email protected] seamlessly integrates the offline and online event experience at the luxury island destination.
Event delegates can access up-to-date event documentation such as programs and flyers, videos, venue and location maps, as well as speaker, attendee and exhibitor information through the app.
The app also leverages the latest in social media tools, allowing delegates to interact, post updates, tag their location, like posts, comment on each other's posts and send private messages. Social media integration allows delegates to share posts from within [email protected] to Facebook, LinkedIn and Twitter.
Jarum Rolfe, partner at AVPartners said, "Hamilton Island is a world-class venue offering a luxury tropical island experience for event delegates and visitors alike. [email protected] is well suited for the venue's highly connected delegates and will further enhance the high-quality events held at the venue."
Julie Ford, Hamilton Island business events manager said, "At Hamilton Island we are constantly focused on how we can improve the experience for our guests. With the introduction of this new event app, our venues and event coordinators are even better placed to communicate and interact with conference guests and deliver a heightened conferencing experience."
The Hamilton Island Conference Centre is the largest conference venue in the region with space to accommodate up to 1000 delegates for conferences, product launches, exhibitions and incentives.