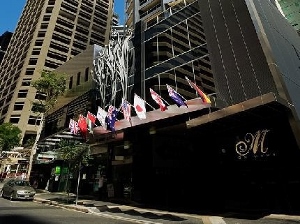 News
Small complexes struggle to become G20 ready
If apartment residents in restricted areas of the city don't act now to fix security issues, come G20 time, they could find themselves locked out or with severely restricted access to their buildings.
The only recourse is for bodies corporate to proactively ensure their complex is prepared and all residents are informed of their responsibilities. This could become an issue for small complexes with no on-site manager to take on the arduous tasks.
M on Mary Apartments on Mary Street has engaged a specialised security consultancy to audit the building, identify areas where security can be improved and provide recommendations. M on Mary Apartments building manager, Paul Hibberd said he expected the audit's results within a month, after which time the building would begin implementation. "We are beginning preparations as early as possible to ensure all of our residents are informed of what the affects will be and what is expected of them over the G20 weekend. "Come June, we expect to have one of our full time staff trained up as an in-house G20 liaison that will provide a central point of contact for all residents at M on Mary."
Archers Body Corporate Management is warning all unit owners and bodies corporate, particularly those in small complexes without an on-site manager, to do their due diligence in the lead up to the G20 to avoid implications from security breaches and unhappy residents. Archers senior body corporate manager, Grant Mifsud said bodies corporate needed to take responsibility to ensure their complex was prepared and residents were notified of any restrictions if their building is within a CBD restricted area. "It is the body corporate's responsibility to change their operations for the duration of the G20 summit and we are encouraging those in small complexes without an on-site manager to act now and put a security and communication strategy together," Mr Mifsud said.
"It is imperative that all Brisbane residents understand the effects of the G20 on their buildings which may include total lock out, restricted entry to the building and common areas, heavy police presence and gridlocked traffic in the CBD.
Mr Mifsud said unit owners should take the following tips on board to ensure they are prepared when the G20 comes to town:
• Ease residents into any changes in the building by implementing security recommendations as soon as possible and ensuring that information is readily available.
• Work with the G20 group liaison officers to get accurate information and organise body corporate briefings. A member from the G20 group can visit your building "undercover" and identify any basic security issues, which is helpful if your complex is small.
• Put together a two-way communication strategy and G20 timeline for keeping all residents informed and make sure they ask questions – ensure all information is sent to all units in both soft and hard copy and clearly available in a central place in the building.
• Identify and train an in-house G20 liaison so residents have a central point of contact if they need information. The G20 Group can assist with this.
• Ensure all building staff including front desk, cleaners and security are aware of their obligations throughout the summit and are able to identify basic security issues and threats.
• If you don't already, consider having a full-time G20 trained security guard on site for the duration of the summit.
To get in touch with a G20 Group liaison officer visit www.police.qld.gov.au/g20