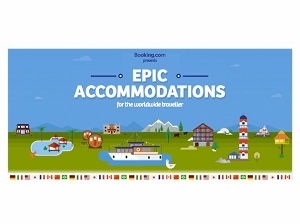 Booking.com has launched a new platform, Epic Accommodations, intended to celebrate some of the world's most interesting accommodations and inspire travellers to embrace adventure when booking their next stay.
"We know that travellers from all over the world really like the idea of staying somewhere unusual," said Paul Hennessy, chief marketing officer of Booking.com, "and that everyone has their own version of an 'epic' stay. With Epic Accommodations, we are celebrating that spirit of adventure, as well as some of the world's most interesting accommodations – and sending the message that choosing somewhere unusual doesn't mean compromising on practical considerations. We know accommodation is central in making a holiday memorable and is an aspect that can easily be tailored to match the level of adventure the traveller wants to take. Booking.com has more than 500,000 accommodations and with our Epic Accommodations we aim to move people out of their comfort zone and give them the sense of adventure they truly desire!"
A recent Booking.com survey of almost 39,000 travellers in nine markets during May and June 2014 set out to understand what motivates travellers when booking accommodation. It revealed that for the majority, small personal aspects of a stay, like friendliness of staff, the quality of breakfast, and even if there are coffee and tea facilities in the room, have the biggest impact on whether travellers have a good time. Booking.com data shows that while friendly staff and a good breakfast are important for all nationalities, these factors are not decisive in the final choice of accommodation of the travellers. This is particularly true of secondary desires, such as unique design, luxury toiletries, or a spa/wellness centre. They are important in hindsight, but they are seen as special extras, rather than a main driver of choice.
The secondary factors vary greatly by nationality. For example:
• Australian and Canadian travellers care more about complimentary refreshments than other nationalities
• Australian and Canadian travellers also care more than other nationalities about having coffee/tea facilities in the room; Chinese and Brazilian travellers care the least about this
• German, French and Italian travellers are more likely than other nationalities to find a spa/wellness center important
• Germans and Brazilians place an unusually strong emphasis on the breakfast
• Chinese travellers care much more than other nationalities about the accommodation having a unique design, and they are also more interested in luxury toiletries and room service
• While the budget-friendliness of the accommodation is relatively important to all nationalities, it was most important to Chinese and French travellers and least important to German and Italian travellers