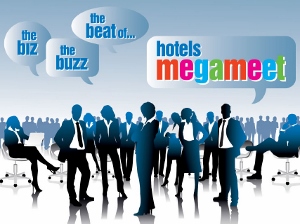 It was announced today that five leading accommodation industry events will participate in Hotels Megameet, a suite of consecutive events for senior industry executives, investors, developers, lenders, suppliers and professionals in Australia and New Zealand.
Held in Sydney over three days between 27 and 29 July 2015, the partnering events at Hotels Megameet will provide attendees with diverse insight into the state of the accommodation industry and where it is heading, whilst also providing a unique "all industry" networking opportunity. Over 100 speakers will address topics over the three days ranging from investment and finance issues, through to development, ownership, technology, management and operational issues. Industry excellence will be recognised through the announcement of major awards and attention will also be directed towards future industry leaders.
Hotels Megameet will comprise:
> HotelsWorld Australia New Zealand – the pre-eminent annual event for CEO's and other industry leaders, with the highest level of decision-maker participation and support for any event in the region. HotelsWorld 2014 attracted over 400 delegates and 50 sponsors, exhibitors and supporters;
> Hotels Investment World – an event designed for accommodation industry owners, investors, developers, operators and lenders, that provides insight into the world of hotel capital in Australia & New Zealand;
> Boutique & Lifestyle Hotels World – a first ever event for the region, designed to explore one the industry's most exciting and fastest growing sectors;
> Ted's Technology Summit – the region's leading technology event for industry leaders, created by industry IT guru, Ted Horner; and
> Tourism Accommodation Australia (NSW) Awards for Excellence 2015 – the most prestigious awards in the hospitality industry, honoring the achievement of excellence in accommodation, dining, entertainment, marketing, training, community service and talented employees.
The creator of Hotels Megameet, Horwath HTL Australia CEO Mr John Smith said that it was a concept that provides busy senior executives with a practical means of knowledge sharing and networking. "In 2015, Hotels Megameet will again enable executives to efficiently and selectively participate in leading industry events over only a three day period, whilst also being able to meet up with peers and colleagues from other Hotels Megameet events in the same city, during the same week." he said.
He added, "Our participating event goals are "Insight, Ideas and Networking" and Hotels Megameet will deliver on those goals as no other events in the region can."