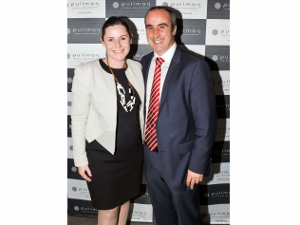 News
Pullman launches 2015 meetings & events campaign
Accor and Qantas teamed up to exclusively invite and recognise top executive assistants and personal assistants from leading international and national corporations across Australia at a special event held at Qantas' Centre of Service Excellence.
In appreciation of their loyalty when booking corporate travel, EAs and PAs enjoyed an evening of Qantas and Pullman service excellence. Guests were greeted by Pullman Hotel welcomers on arrival, mingled with Pullman culinary ambassador Justin North and delighted in a showcase of Qantas via epiQure tasting stations among the airline's new A330 Business Suites.
The EAppreciation event was also the platform for the launch of Pullman Hotel's new conference and event campaign for 2015. For all new corporate events booked at participating Pullman Hotels from 1 April and 31 July, bookers will receive a complimentary pop-up bar featuring a selection of Justin North's Tapastry menu items, plus double Le Club Accorhotels Meeting Planner Points and the eligibility to go into a major prize draw – a trip to Paris.
Pullman Hotels is giving one lucky Le Club Meeting Planner member the chance to travel to Paris with three of their friends, staying at Pullman Paris Tour Eiffel for four nights during Paris Fashion Week, including Qantas flights.
Vice president of sales, distribution & revenue for Accor Pacific, Henrik Berglind, said "Rewarding meeting planners who work with Accor is something we're really passionate about, and we are thrilled to partner with our friends at Qantas to recognise clients both new and existing to showcase the service and product we offer.
"Accor and Qantas have had a long standing relationship with Accor managing the Qantas First Class and Business Lounges for seven years – and now with all Qantas domestic lounges run under the auspices of Pullman, it is befitting that we announce our Pullman meetings and events campaign with Qantas at their Centre of Service Excellence."
In addressing the audience, Justin North spoke of why he chose to partner with Pullman as culinary ambassador and networked with the EAs and PAs alongside the National Sales teams from Accor and Qantas.
Qantas head of business and government sales, John Simeone, said "We are pleased to recognise the support of the trusted advisers of so many of our corporate partners who play a vital role in the travel decisions their companies make, while also showcasing our Rockpool menus designed by Neil Perry, which are so popular with our customers in our lounges and onboard."
During the evening festivities, guests mingled with the national sales teams from Qantas and Accor and were treated to take home goodie bags with Qantas pyjamas and lucky door prizes including $500 Qantas vouchers, Rockpool dinner vouchers, and accommodation prizes at Pullman Hotels in Melbourne, Brisbane and Sydney.