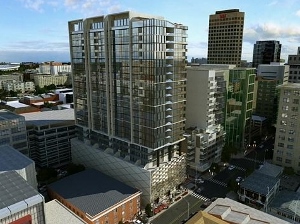 Building has started on Datong Australia's $116 million U2 on Waymouth development in Adelaide.
The 25-storey building, that will feature a rooftop cinema, will have 257 apartments (including three bedroom penthouses) with views over the city.
Datong Australia chairman Jin Liang said the development's dual unit ownership feature meant buyers could live in one apartment and rent out the other, or open an interconnecting door to create a larger apartment.
Construction is expected to be completed by late 2017.