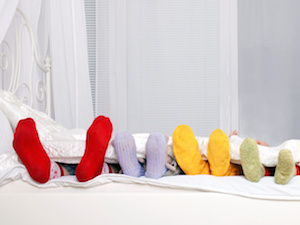 Oooh dear! The temperatures are dropping rapidly and there is no doubt summer is over. Time to consider how this change of seasons will affect your guests.
Of course, the menus will change in the restaurants, slightly different drinks will be ordered in the bar and only in a few localities will guests still choose to eat and drink outside – but what about the guest rooms? How will the bedding change – or will it need to change at all?
In larger, air conditioned properties there might not be any obvious need to alter the bedding that served so well all through the summer – after all, guests only need to turn the temperature control dial slightly to achieve the temperature that makes them comfortable – but life is not always so simple, particularly where there is more than one guest in the room. Not everyone likes to sleep at the same temperature level. For instance, a woman might prefer a temperature that is too hot for her partner, while a man might be used to having a window or deck door open to he can have some fresh air – making his partner feel too cold. Or there might be children to consider. While there might be air-conditioning there is still a need for flexibility.
And even when all the guests in a room or suite do feel comfortable in their beds, there is the question of perception. Summer bedding might seem fine in a range of lighter colours but they might appear somewhat out of place in the winter where darker, brighter, cosier colours and perhaps a throw, quilt or heavier bedspread would seem more appropriate.
In many accommodation properties, a different type of bedding will be essential. Smaller hotels and motels, ski lodges, holiday parks, homestays and backpackers will usually have to alter summer bedding for their guests. Electric blankets will often come into play.
But they will not always be necessary. More thermally-efficient blankets and perhaps a brightly-coloured quilt or other extra covering might be all that is required. And whatever the preferred solution, it has to be considered how they will be kept hygienic. Heavy bed coverings that might shrink or require frequent dry-cleaning can have a significant effect on an establishment's bottom line.
Much will depend on the type of property and this is where owners and managers will need to make a decision on what would suit them best. To assist, AMG consulted two well known experts in warm bedding: Westpoint Australia that specialises in Vellux thermal blankets; and Yardley Hospitality where the principal winter product is Sunbeam electric blankets.
John Collins, managing director of Westpoint Australia, has seen extensive change and developments during more than three decades in the industry. He says quilts are now strong in the four and five-star establishments due to their attractive appearance.
"However, all establishments also offer an option of blankets, either in the room cupboards or selected from reception. Guests often prefer to request the blanket these days because many feel that the quilt fill may not be so hypo-allergenic clean due to rarely being laundered, while a blanket in a plastic bag has obviously been washed. The old style cotton blankets have been phased out due to their heavy weight and low warmth ratings," he said.
The Vellux blanket was developed and patented by an American technology company, J P Stevens, in the early 1980s responding to demand for a daily commercial laundering blanket product. More than 160 million Vellux blankets have been sold worldwide to accommodation houses.
"The central core is thermal which traps the body heat so you have warmth without weight. It is the lightest blanket in the world and rated at 1.7 togs – one of the warmest of all," said Mr Collins.
"As Vellux is constructed as a type of fabric welding, it's reported to be shrink proof – and amazingly colourfast. The blankets can be washed daily, then thrown in the dryer and never need ironing. In fact, the more they are washed the better because the central core remains nicely soft and supple."
At Yardley Hospitality, managing director Paul Yardley says electric blankets are one of the most cost-effective ways to keep warm as they only warm your bed or body, and do not waste energy heating the whole room. His company specialises in Sunbeam products.
"Sunbeam remains the market leader in electric blankets and has long been Australia's most trusted brand in this category. Sunbeam developed many of the innovations that are now standard features, such as fully fitted designs, detachable controls, machine washable, boost controls and cosy feet heating," Mr Yardley said.
"Other Sunbeam innovations include exclusive SleepPerfect technology which is used on SleepPerfect electric blankets and Feel Perfect heated throws. This technology senses changes in room and body temperature and automatically adjusts to maintain the users selected heat setting.
"A Sunbeam Sleep Perfect electric blanket uses 150 watts maximum (at the highest setting), which costs around two cents per hour. Once your selected temperature has been reached, the electric blanket uses the amount of power required to maintain that heat setting, making it even more energy efficient," he said.