News In Brief
National Geographic adds Australian lodge to prestigious boutique hotel collection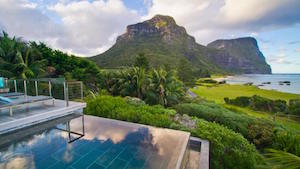 National Geographic Unique Lodges of the World has added 14 new lodges to its prestigious collection of boutique hotels in remarkable destinations around the world.
These new properties have each demonstrated their commitment to authenticity, excellence and sustainability, while offering outstanding guest experiences that support the protection of cultural and natural heritage.
One of these is in Australia. Capella Lodge on Lord Howe Island was selected for the elite collection.
Capella Lodge, designed with contemporary, clean lines and simple, elegant furnishings that incorporate natural elements, has nine suites nestled amid the hibiscus and frangipani blooms with huge windows and spacious decks, all subtly angled to maximise the views. A world-class restaurant and a fleet of bikes and kayaks round out the experience here.
Lord Howe Island stretches less than seven miles from end to end, and not even two at its widest point and is renowned for its walks or strenuous hikes, snorkeling amid colourful reef fish, exploring by bike or kayak, and discovering flora and fauna.
A full two-thirds of the island is a national park, and UNESCO declared it and its neighbouring islets a World Heritage site in 1988. No more than 400 tourists are allowed on the island at any time—a policy Capella helps manage—and the island has only 360 residents.
Wilderness reigns here and the lodge does not interfere, following green practices that have a low-impact on the environment and encouraging the growth and protection of native plants.
They work closely with local conservationist and naturalist guide Ian Hutton, who has led efforts to remove invasive species from the island and spearheads an engaging nature program available to guests.