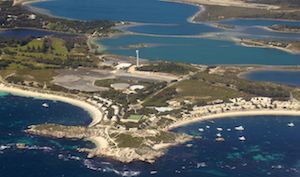 Despite past failures to get a development going for the controversial Mt Herschel site on Rottnest Island in Western Australia, the Rottnest Island Authority has declared renewed interest in creating a hotel.
The proposed five-star hotel would overlook Longreach Bay and six parties have indicated their interest in the development, according to Rottnest Island Authority chief executive Paolo Amaranti.
Mr Amaranti said negotiations were under way with two groups but would not disclose the identity of the companies.
Two previous attempts to secure a hotel developer for the site — in 2006 and 2010 — failed despite preferred developers being announced.
In 2006 an attempt to develop a hotel collapsed after two years of talks with a consortium led by Broadwater Hotels and Resorts. Another in 2010 failed after Pinctada Hotels and Resorts withdrew, saying the resort was financially unviable.
The island's 20-year strategy advocates private operators taking over half the island's accommodation.
In addition to the Mt Herschel hotel, the RIA will soon call for expressions of interest to build a marina on the site of the army jetty in Thomson Bay along with short-stay holiday units, a restaurant or licensed cafe, and charter or cruise operations.
Also Rottnest Lodge has approval to be rebuilt as a 4½-star resort – part of a $20 million plan. Included in the development would be 80 units, a restaurant and bar, gymnasium, spa, therapy pool and open-air cinema.