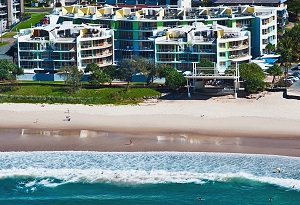 Kings Beach in Caloundra is one of the best family beaches in the state. It is a safe, enjoyable, patrolled surf beach with an ocean pool, fantastic views and a great board walk surrounded by coastal walks and parkland.
The beach is sheltered by Morton Island to the east and there is space for both swimmers and surfers with beautiful rock pools for children both young and old to explore.
Sitting right on Kings Beach is Rolling Surf Resort and the old cliché: location, location, location, certainly applies!
This resort is absolute beachfront and, as resident manager Anne Fredericks says, the location is unbeatable for families who enjoy easy access to the beach when opening their front door.
She said, "Guests can sit on their balconies and watch the boats go by, the dolphins playing in the surf and sometimes they are lucky enough to see whales playing in the channel."
Rolling Surf Resort is a wonderful combination of perfect location and top class guest facilities making it an ideal Sunshine Coast holiday choice. It is just a five-minute walk from the town and the resort has a selection of restaurants helpfully situated under the property. The one, two and three-bedroom modern apartments are very spacious, well equipped and easy to live in. Superb ocean views can be enjoyed from its two and three-bedroom ocean-front apartments with a choice of courtyards, balconies or a private rooftop apartment. In the poolside building there are apartments with partial ocean views and rooftop apartments with their own sauna and barbeque. The resort also boasts fantastic pool entry apartments where guests can swim right up to the gate.
Anne Fredericks and John Bourke are in their seventh year at the Rolling Surf Resort, having bought the management rights following a move from New Zealand where for over 20 years John had worked in real estate. Anne worked in local government as a maintenance manager where she managed one of the largest council portfolios in New Zealand.
The memorable old Rolling Surf Resort that originally inhabited the site was famous for its seafood smorgasbords. "People came from miles away to feast at the table, it is amazing the number of guests that tell us all about the wonderful holidays they enjoyed as children or young parents. It is almost a nostalgic journey for them; their faces light up when they talk about all their adventures and sometimes they even have old photos!" Anne said.
The current resort was built in 2000 and at this time it was able to lay claim to possessing the largest pool on the Sunshine Coast. It is 60m long and 2.7m at its deepest point but the pool caters for all age groups as it has a mermaid area for the children that ranges in depth from 1.2m to 2.7m. Anne said, "I believe we still have the largest pool on the coast with only one other coming very close in the Warana area."
This couple are now very experienced and successful resort managers but when they entered the industry they had minimum experience and Anne explains that to "ease them in" they had a "buddy couple". This was an experienced pair of resort managers who worked with Anne and John for the first two weeks. Anne said, "They helped us find our feet and, remarkably, they have always been there for us – on the end of a phone."
Anne also acknowledges the value of joining ARAMA – "it has been worth its weight in gold" she said. ARAMA is an organisation of likeminded people that is there to help and support resort managers and it has a wealth of knowledge. According to Anne and John the ARAMA training sessions have been invaluable. Anne said, "I have sat at evenings and thought on many occasions how similar a situation is to mine or thought 'why didn't I think of that?'."
ARAMA has been a resource that this couple have used not only for its excellent training but also when they just wanted to talk to someone who had experienced similar situations. Anne said, "There is no need to feel lonely, bullied or even inadequate with ARAMA around. Sometimes it is only a matter of talking a problem through, to clarify the solution and sometimes you just need to laugh about it."
Four years ago a major renovation began at Rolling Surf Resort as it had become a little tired. This huge renovation encompassed new tiling throughout the resort, a total re-paint, a new security system with cameras and all the planter box gardens were removed and replanted. The office and gym area were totally updated, a new swimming pool heating system was installed and the pool was redesigned by removing the timber bridge and replacing it with a stunning glass and stainless steel design. More recently, work has been undertaken to construct new rooftop shade structures on the individual rooftop terrace areas.
The renovation was a massive success and Anne commented, "I think the biggest and most unique aspect of our renovation was the resort's glorious aqua, green and blue paint scheme." This colour scheme certainly turned heads. When they first started putting the colour on "it certainly made people stop and look". Not every resort "could wear those colours" but right on the beach, complementing the colours of the ocean, it is a perfect fit. At first Anne said that the colours "raised a few eyebrows" but once the painting was finished and the building stood in its full glory they have received "so many wonderful comments".
Anne said, "Guests would comment on how cheerful it looked and said that it really felt like a holiday location. Others would ring us up and ask if this was the resort on the walkway with all the colours." According to Anne this is exactly the reaction the architect had aimed for when he put forward the colour scheme as he wanted to make an impression for people to remember the resort.
Having a proactive body corporate is also vital to a truly successful resort business. According to Anne and John they are very lucky to have consistently experienced committees that have focused on keeping the resort modern and always looking attractive and inviting.
Other tips they share for building a successful business is to ensure that you have some time away from the resort. As a golfer, John finds that this helps to truly relax him and having family living on the Gold Coast allows them to catch up and enjoy quality time out.
So what do they enjoy most about managing the resort? John said, "Although you predominately remember the cranky characters, this is actually only a very small portion of our guests. The majority are wonderful people."
Anne loves the position of being located right on the door step of the wonderful Kings Beach and she said, "Everyone thinks their resort is the best and that's only natural, they all have a unique feel, atmosphere and location but we feel that we really have something special here, we offer something for everyone and we feel very passionate about it."
Luckily Anne and John are happy to share this special place with their guests and pass on some of their passion!