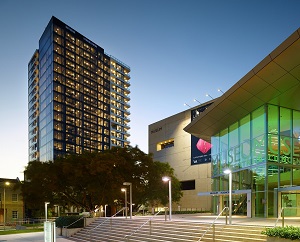 Profiles
The 'grateful fateful' Sunshine state's brand new apartments
The stunning brand new Austin Apartments sit opposite the Queensland Museum, close to the Queensland Performing Arts Centre and art galleries. It is the tallest building in the South Brisbane arts enclave and forms a gateway tower between the CBD and South Brisbane.
The distinctive brick and glass building is dynamically angled on the corner of Grey Street and the previously neglected and forgotten Fish Lane, was designed by architect Simon White from Rothe Lowman White. Completed recently, it features a turn of the century four-storey exposed brick façade that was once a Queensland Rail depot and distinctive and impressive four-storey piece of artwork by Kuuki, commissioned by the council to tie in with the building's close proximity to the Gallery of Modern Art as well as Queensland Art Gallery.
The artwork, Grateful Fateful Sunshine Rain was created to reflect the complex relationship that Brisbane residents have with weather. It classifies weather as being an integral part of the Sunshine State's cultural identity and showcases how deeply it effects the mood and atmosphere of the city. According to Kuuki, the concept is "poetic illuminated visualisation of real-time weather forecasts issued by the Bureau of Meteorology"! The shifting colours and effects represent temperature, precipitation, wind and cloud data thus the art is unique to each day.
The multi-award-winning developer Aria Property Group is dedicated to the successful development of South Brisbane and West End, with other new developments under construction. It is a family owned and operated property development and investment company founded in 2003 by Tim Forester.
They commissioned this 138 apartment project that promptly sold out off-the-plan and, with a shortage of residential property of this standard in South Brisbane, it has achieved incredibly high returns. The ground floor retail tenancies and a café have also been the catalyst for the exciting development of Fish Lane from a service laneway into the popular and vibrant hub it is today.
Gayle O'Sullivan is the building manager and she was attracted to the project for many reasons. She explained, "These gorgeous brand new apartments are in a perfect location, just a four-minute walk to the CBD with wonderful riverfront views from the 21st floor."
The apartments are substantial, a direct decision taken by Aria was to build large units aimed to attract owner occupiers, unlike most inner Brisbane apartment projects that are targeted at the investor market. Other attractions at the development include its focus on amenities and recreation with a 500m² rooftop terrace designed for quiet relaxation with sunbeds, open air bars, dining areas and rooftop planting, all with city views.
Gayle is an experienced manager having been in the industry for 12 years. She started off as a silent partner in a Broadbeach property on the Gold Coast but the hand of fate intervened. She said, "I was forced to take over the business when our managing partners very suddenly walked out!"
She stepped in and quickly managed to get the Broadbeach property up and running, then she worked in Brisbane for companies such as Q Resorts, Oaks, Quest as a business development manager. She spent several years working for Developers Devine at Hamilton Harbour – Brisbane's largest residential unit complex. "I have also worked with Metro Developers as a rental consultant," she added.
This is the first time she has been a live-in resident manager but Austin Apartments is Aria's signature building and required an extra special touch; live-in managers can offer so much more. The advantage of their location being onsite 24-hours-a-day is insurmountable and having a solid financial and vested interest in the complex, means that they are ideally placed to offer the highest standards of care for the building and its owners.
Gayle manages the entire building and aims to retain quality tenants. She constantly keeps the owners informed of the apartments' condition and indeed the behaviour of their tenants. Gayle is onsite and able to look after and protect the property, she aims to keep it in peak condition with a finger on the pulse for investors.
And Gayle most certainly has her finger on the pulse – having "rented 122 apartments in six weeks". Currently concentrating on the corporate market, she said, "Fifty furnished apartments have been rented very successfully for corporate leasing as they offer better value-for-money than hotels over a six-month period."
Gayle also explained that her assistant Charlene Herrmann "has been a huge asset" she was especially helpful when renting out the apartments.
The summit of Austin Apartments is most definitely its astounding rooftop with unsurpassed views over Brisbane CBD and the river with a particular highlight being the fireworks on New Year's Eve. The amazingly comfortable and unique rooftop has features such as private bureaus, Japanese barbeque, zen gardens and a kitchen.
Part of Gayle's role is to ensure that all of the communal areas are perfectly maintained and to do this she has developed a set of rules. She noted, "I have been very strict with tenants from day one to ensure that everybody obeys the rooftop rules. I find if you are upfront with tenants they know where they stand from day one."
According to Gayle the recent G20 that was held in Brisbane created a huge sense of excitement throughout the city and from the 21st floor roof-top at Austin Apartments they had "great views of the Obama convoy and they could even watch the snipers on the roof of museum opposite".
According to Gayle, these spectacular new South Brisbane apartments have been irresistible to the astute buyer and tenant, this relevant building also adds importance to its location. The secret of Gayle's success as a building manager she says is simply, "I am very passionate about these apartments, my work and love what I do."