Opinion
EXCLUSIVE: Rachel Argaman talks OTAs, controversy and career-building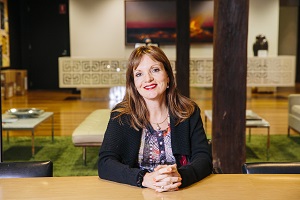 accomnews had the opportunity to talk with one of the accommodation industry's most outspoken representatives, TFE Hotels CEO Rachel Argaman.
One of just a handful of female CEOs, Ms Argaman has paved the way for a lot of young women working in this notoriously competitive and ever-changing sector.
"During my MBA, Carol Scott came to talk to our group. Carol was then one of the few women leaders in tourism in South Africa. I was completely inspired by her. Like so many people in travel and tourism she was full of heart and had a passion for life and for people, travel and sharing experiences. I knew I wanted to be just like her," Ms Argaman revealed.
"I believe people either have a heart for service or they don't. I definitely have one. I truly care about customers having a good time and believe in customer-centric businesses (regardless of industry). I came to my current position not by specific design but by being engaged with and passionate about what I do, always building strong teams (I believe an intelligent and motivated team is the best strategy there is) and being very goal oriented, which I have always been naturally.
"All of us, as interconnected human beings are looking for something to believe in and a critical part of leadership is making sure that work has a 'purpose', that as a team we feel we are striving towards something, hitting outcomes and delighting guests and all our stakeholders and can be very proud of what we do. My mantra is the quotation, 'companies don't succeed, people do'. It is true for all companies but especially true for the travel industry. I have never regretted my career choice and genuine love what I do and the incredibly team I have the privilege to work with."
Ms Argaman's positive attitude towards the sharing economy and OTAs has often made waves within the community, more recently at this year's HotelsWorld conference. While many general managers and independent hoteliers feel OTAs and, perhaps to a lesser extent, Airbnb threaten their business, Ms Argaman argues that industry leaders need to work with rather than against them.
"Online travel agencies such as Booking.com and Expedia are part of life – a real and legitimate channel of business. They are genuine distribution partners, often giving us our highest rates during times of compression in the market."
She added: "We are happy to take their bookings as our booking partner. So one can think of OTAs as parallel channels. Our challenge as hoteliers is to turn a first time customer coming from an OTA into a repeat customer. At the end of the day it is about consumer choices. It is up to us to follow our customer post-booking, pre- and post-stay, and win their loyalty. This is just as much as our responsibility as ensuring our hotel product does not become stale.
"Yes, as larger players we negotiate better group-wide commissions than independent hotels but it goes back to winning the customer back with direct bookings post their first stay. Interestingly, in APAC only 15 per cent of travel sold online vs 40-50 per cent in the US and Europe. This is growing significantly. Partly because of relaxing visa restrictions And also because of fast changing customer behaviours – customers have moved to online and mobile (especially millennials who are primarily working on mobile)."
"Regarding Airbnb," she continued, "we have not seen a negative impact and they seem to be drawing incremental customers. As a distribution partner for our apartment hotel product we are finding them a useful source of bookings particularly for the inbound leisure market."
Another of Ms Argaman's more divisive opinions came up when asked to reveal the best hotel stay she has ever experienced. "I will be controversial and say the best accommodation experience I have had has been on a yacht.
Maybe because I have just been lucky enough to have a week on a yacht off the coast of Turkey with my husband and children," she cheerfully revealed. "Very special to have that quality time on the water with our kids (the perfect way to keep teenagers with you!) and to do simple family stuff on board at night, like doing puzzles and playing cards."
Although controversial, Ms Argaman assured us she has never encountered any hostility when sharing her views on OTAs or anything else with the many who would disagree. "I try to be honest and direct in my opinions without offending people. I am always prepared to listen to other people's opinions and arguments and to change my mind if they are compelling."
Deeply concerned with making the most of all available technology to enhance the marketing experience for both hoteliers and guests, Ms Argaman commented on the ways in which travel brands can use social media. "Connectivity is at the centre of this digital revolution. By 2020 we can expect 50 billion connected devices around the globe. Organisations that can successfully respond to this connectivity and mobility will continue to remain competitive into the future.
"We are all leveraging the key platforms to ensure we communicate relevant information to consumers who want it. (Otherwise relentless re-marketing can become stalking and people hate that!) The narrative of business has shifted. Disruption is so pervasive. Technology is changing, customers are changing, our workforce is changing. We all have to ask how do we innovate? How do we partner with someone? How do we have a disruptive mindset? How do we do it better?" she queried.
"Digital is transforming the way businesses work. It is creating new business models, reinventing the way we connect with our customers and fundamentally changing the way all of us work."
Ms Argaman's passion for improving guest holiday experiences could well be rooted in her own love of travel. She told accomnews that in her free time, "Holidays are right up there!" Which is something important to keep in mind as a hotelier: what do you most enjoy when you yourself are a guest? When not immersing herself in the industry as a busy CEO, Ms Argaan enjoys spending time with her family and friends, entertaining at home, going on walks, participating in yoga classes and losing herself in a good book.
"Going local" was something accomnews noticed Ms Argaman highlighting during her panel discussion at this year's HotelsWorld conference in Sydney. It refers to a new trend where accommodation providers draw from their local vicinity to provide guests with unique experiences to share online.
"I think guests and travellers always want to experience the 'local' flavours of the areas they visit. One of the big trends in the digital world is sharing experiences. The definition of luxury has shifted from being about people buying branded products and "things" to people sharing bespoke experiences with friends.
"We have to facilitate those experiences and also the sharing of information. Examples would include our 'staycations' at Vibe Marysville in the Upper Yarra Valley and at Adina Apartment Hotel Bondi or our 'tastecations' at Travelodge Hobart or 'drivecations' to Hotel Kurrajong in Canberra. In each case we have customised the itinerary and suggested experiences on the journey and during the stay."
Asked about her company goals for TFE Hotels, she quickly described her plans for the firm. "We are working with many developers currently on new hotels and look forward to helping to facilitate many hotels through the feasibility process and helping them to stack up so that they get built.
"We are also about to launch the beautiful new next generation lifestyle Vibe Hotel with the opening of Vibe Hotel Canberra this year. Shortly following that hotel will be the opening of our new Vibe Hotel North Sydney in 2016 and a number of other new nex gen lifestyle Vibe Hotels following in other states across Australia."
In terms of her own career though, Ms Argaman's vision has a far more idealistic tone. "In my career I always want to make a difference, work with great teams to deliver meaningful outcomes, have fun and be passionate about the customer experiences we are delivering."
accomnews certainly wishes her all the best and looks forward to hearing her next divisive industry thought.