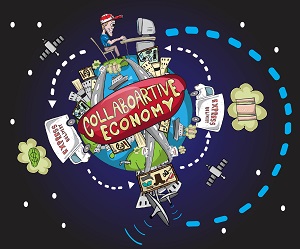 I've booked with hotels all my life. During a recent trip to Germany, however, my wife and I booked with Airbnb. I wasn't disappointed.
While planning a vacation with my wife to a small town in Germany (near Karlsruhe) to visit our niece who is living there for a few months playing professional softball, I found myself searching online for a place to stay just as any other guest might. With my career as a hotel trainer providing so many connections, and with my wife being a 25-year employee of a major hotel brand, we usually stay at a hotel either where we know someone or at least where she can get an employee rate. So for me this was a rare firsthand experience of what it is like for most consumers randomly searching for accommodations.
In the end, we chose Airbnb. I have to say it was a most interesting opportunity to gain insight into its popularity and explosive growth.
As part of the sharing economy, Airbnb is often called a disrupter of the traditional room accommodations model. Based on my experience, perhaps the hotel industry could benefit from this disruption by improving its own service experiences.
First, I visited the websites of a few of the hotels I had found by doing a search on an online travel agency website. I then clicked over to TripAdvisor to check out some reviews. Not being satisfied with what I was finding, I decided to visit Airbnb. Right away I began to realize why this channel has become so popular.
Why I booked with Airbnb
First, it was much more informative than most hotel websites. I found a terrific mapping feature, easy access to verifiable guest reviews and, best of all, most of the properties had lots of real-world pictures—not just stylized professional shots.
Because we planned to stay for a week and also wanted to have our niece over to visit, I was especially particular about my selection of lodging for this trip. I decided to email some questions to a few of the hoteliers and also to the owner/host of the Airbnb unit. This was when I first began to notice what I liked most about the experience: the authentic, genuine hospitality delivered personally by the Airbnb host.
I sent all of my emails at the same time. There were four messages to traditional hoteliers and one to my Airbnb host, explaining our plans to visit for the local team's softball playoffs. I also included a few questions about transportation, shopping and dining. Out of the four hotelier inquiries:
1. One never responded to my questions;
2. another simply quoted the rates and completely ignored my other questions;
3. the third replied with brief, one-line answers; and
4. the fourth replied with pleasantries and more detailed answers—but it took four days.
Meantime, my Airbnb inquiry was answered within hours by host Nicole. Thanks to the platform's easy-to-use app, I received the response there as well as via text. Nicole introduced herself and expressed enthusiasm in hosting what she noted was to be our first vacation to Germany. She provided thorough details about the transportation options to and from our niece's apartment and the softball fields and also several recommendations for nearby shopping, bank and dining. She volunteered additional details about how the accommodation would be perfect for us as there was a small yard in the front of the home where we could enjoy what was likely to be nice, early fall weather.
In the ensuing weeks before our arrival, we exchanged a few more messages. Nicole continued to extend personalized hospitality to us, always responding promptly.
That first impression of the Airbnb experience and Nicole was good, but it was the arrival experience that left the biggest impression.
On the morning of our arrival, I received a text from Nicole asking how our flight had been and reconfirming our arrival time. When we got to the apartment, she was there to greet us personally, taking time to walk us through the accommodation and to answer questions we had about the local area. She messaged us during the stay to make sure everything was going well.
We had to depart in the early morning at the end of our stay, so Nicole sent her regrets at not being able to say goodbye in person and wished us a fond farewell.
Welcome home
When I first started working as a bellman in this industry, one of my first mentors told me that the key to being successful in the hospitality industry was welcoming guests to the hotel in the same way as you would welcome them into your own home.
Our industry has grown and expanded over the years. More hotels are owned by investment funds and not people, and more hotels are managed by companies that answer first to Wall Street before guests. Along the way, that important message of welcome that I learned years ago often gets lost.
As an Airbnb guest, I was treated like a guest in someone's home because I was a guest in Nicole's home. Even though we were renting the apartment that was attached with a separate entrance, at every step of the service cycle we were treated with warmth and generosity that is too often lacking in today's corporate hotel environment. Yes, Airbnb lived up to its Silicon Valley origins with a high-tech booking process, but the platform offered a very high-touch guest experience as well.
The opinions expressed by any columnist or writer on this website do not necessarily reflect the opinions of accomnews or Resort Publishing. All columnists are encouraged to express their views even if they might be controversial, as they create a dialogue and space for readers to discuss issues within the industry. Please feel free to comment or contact the editor with any questions or concerns.