ARAMA Report
Industry awards recognise quality of management rights holiday accommodation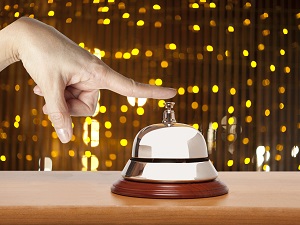 The competitive challenge for Australia's tourist and holiday destinations has been highlighted by the success of two ARAMA members gaining national recognition with industry awards for their properties and services.
The triumphs of The Observatory at Port Macquarie and the Pinnacles at Airlie Beach in winning converted industry awards reflects positively on the efforts of the management and their teams to ensure that the quality of their service delivery is formally recognized.
Industry wide judgment is a challenge for us all, as it ensures that professional management is focused on the detail of delivering quality and satisfaction on a daily basis on behalf of owners and clients in what is now Australia's expanding economic industry.
Industry awards continue to be the most credible benchmark as successful judgment reflects on the expectations that visitors, guests and tourists have in the every expanding holiday and tourist industry options which are now available.
The consistency of achievements in award competition by Chris Denny and his wife Trish at their The Observatory complex at Port Macquarie is legendary and a clear example of consistency in competition over a number of years.
There is plenty of competition in the Central Coast region of NSW, but the Observatory Resort continues to maintain its reputation of being an award winner, again and again in the NSW Tourism Awards.
While Airlie Beach and the Great Barrier Reef in north Queensland are also blessed with a highly competitive industry and a high standard of Resort Accommodation, the Queensland Tourism Award won by The Pinnacles Resort, Airlie Beach reflects not only on the building and its amenities, but on the dedication and commitment of the team that delivers the day to day services to guests and unit owners.
Our congratulations to Susan Watson and her team at the Pinnacles Resort, Airlie Beach on their Silver prize in the Queensland Tourism awards.
This year ARAMA. as a longtime member of the Queensland Tourism Industry Council, (QTIC) has contributed to the support of the annual awards program by sponsoring one of its accommodation award categories. It has been really great to see ARAMA members take the time and trouble to enter the widely contested competition and achieve great outcomes.
Congratulations on your win in these very prestigious Queensland and NSW Tourism Awards. We are so pleased that our valued ARAMA members managed to secure one of the major Tourism awards in each State.
As Susan relates the story of the Pinnacles Resort entry which she started some four or so months ago. " There was four months of hard work put into our submission and we prided ourselves that we did it all ourselves and that it wasn't written by some marketing/advertising guru but from the people that actually worked in the business.
"We were really over the moon to achieve this prestigious prize in the Queensland Tourism Awards"
"This year was our first time entering and it was a long process – our submission was some 35 pages long and really quite involved as to the information the judges required. We also had a visit from a judge who stayed with us two nights and then we had a "interview" type situation during his stay.
Susan reports that The Pinnacles are getting ready with a new entry for next year's competition.
The Observatory Hotel won the Deluxe Accommodation category as well as the Qantas Award for Excellence in Sustainable Tourism at the NSW Tourism Awards.
NSW Minister for Trade, Tourism and Major Events Stuart Ayres said it was an honour to be at this year's NSW Tourism Awards and congratulated the individuals and businesses on their outstanding accomplishments over the last year pointing out that in the year ended June 2015, the tourism industry contributed a massive $23.6 billion in international and domestic overnight visitor expenditure to the NSW economy.
"These phenomenal figures demonstrate the significance of recognising the thousands of individuals who have worked tirelessly to ensure that NSW remains the number one tourism and events State," he said.
Winning awards is nothing new for The Observatory team, recent accolades for The Observatory include the 2015 United Nations World Environment Award for Small and Medium Organisations, 2015 United Nations World Environment Highly Commended Award for Clean Energy, 2014 Winner World Boutique Award for Sustainability (Australasia), 2014 Australian Business Award for Sustainability, 2014 Australian Business Award for Service Excellence, 2014 NSW Green Globe Small Business Sustainability Award and the 2014 NSW Green Globe Premiers Award for Sustainability.
It is indeed exciting to see ARAMA members getting involved in industry activities, which are such an important part of the ongoing promotion of the first class services provided across the nation by the continuous growth of the tourist and holiday accommodation industry which is now such a vital component of the national economy.
We all need to get behind the promotion of our local and regional products and remind Australians and international visitors that we have world class attractions and opportunities to provide for their future holiday and visitor needs.
ARAMA is very proud that award winning properties like the Observatory Resort in Port Macquarie and the Pinnacles Resort in Airlie Beach are ARAMA members and demonstrate that reward and recognition is achievable when you try hard enough.