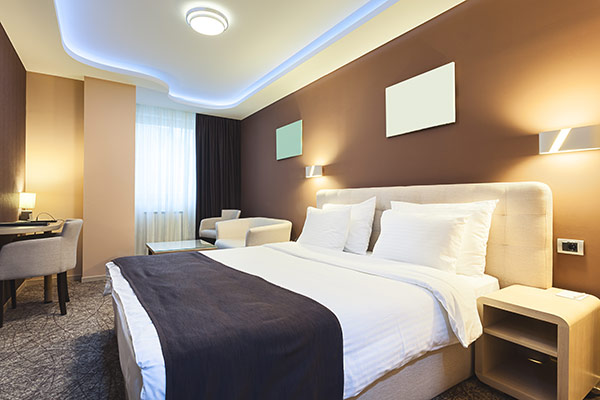 Not sleeping well is a widespread problem as most of us don't get enough sleep. According to the World Association of Sleep Medicine: "Sleeping problems are global, impacting 45 percent of the world's population, endangering their everyday life and making their lives shorter."
Read the full story in our May issue of Resort News.
In March, during World Sleep Day in Budapest, an international event that raises attention on the importance of sleeping, experts confirmed that a lack of sleep may "lead to substantial deterioration of life quality" and "cause numerous diseases". There is some good news though! Most sleeping disorders can be prevented or treated.
During World Sleep Day and as part of the international sleeping culture program, the 2016 Sleepfriendly Hotel Award was handed over to Prestige Hotel Budapest. "This acknowledgement distinguishes and appreciates hotels that pay special attention to providing the appropriate conditions for a relaxing sleep."
It opened in spring 2015 and offers 85 beautiful vintage-style rooms, with one guest reviewer describing their beds as "literally the bed of dreams", they also offer a pillow menu. This hotel has garnered a collection of prestigious variety of awards and earned the TripAdvisor Traveller's Choice 2016 Award.
This hotel offers top-notch sleep so how can you promote the business of sleep, offering high-end slumber within your budget? Australia's sleep health foundation offers some top tips: First, "get the environment right", including quiet – ensure the room is soundproofed and make a 'do not disturb' sign available. Dark – always have good quality curtains and shutters. Temperature – provide adjustable air-conditioning. Finally, present a comfortable bed – a quality mattress and ensure cleanliness because a lack of hygiene and bed bugs are a massive sleep and business killer.
Or you could follow Westin Hotels and Resorts example – it considers itself 'the sleep authority' now that it is partnered with the World Sleep Society. It proudly delivers specially customised 'sleep kits' containing a range of sleep aids gifted to their guests to promote sleep and combat jet-lag.
But a comfortable guest bed is deemed the most important element in an accommodation guest room according to a 2014 Gallup Survey. It revealed that a comfortable bed was most often named the number one feature of a hotel room, more than any other amenity, including internet access and helpful employees.
So if your beds or mattresses are not up to scratch and you need to replace them, what factors do you need to consider?
To help you, Resort News conducted a Q&A with some leading hospitality bed suppliers…
Michael Anderson is the national commercial account manager for SleepMaker Commercial.
Q: Tell us about the latest trends/innovations?
A: We have now been using premium gel-infused memory foams in commercial for a couple of years, and feedback from hotels and guests alike is nothing less than amazing. We are seeing an increased demand for high-end bedding with new technologies like different grades of specialist memory and gel-infused foams, and specialty hybrid beds that combine the best of foam and springs to create a truly unique sleeping experience.
Peter Deveny is the group commercial manager for AH Beard Commercial.
Q: How do you reduce allergens in a bed?
A: The reduction of allergens in beds is achieved by the use of treatments that help to inhibit the growth of mould and mildew and other allergen triggers in the foams. All AH Beard mattresses feature foams treated with HealthGuardR. This is a non-invasive treatment that eliminates mould, mildew, bacteria, dust mites and fungus to help make the mattress as clean and hygienic as possible.
Robert Weatherdon, managing director of R. Weatherdon & Co, the preferred supplier to more than 600 hotels in Australia and New Zealand also answered some questions.
Q: Tell us about the latest trends/innovations?
A: The focus now is on the mattress topper. This caters to the legendary 'sleeping on a cloud' aspiration and the feeling of deluxe comfort. Personalising a room with bedding and pillow menus and catering to clients' allergies, health and well-being requirements is where savvy operators are heading.
Chase McDonald is the commercial sales representative for quality mattress supplier Avante.
Q: Tell us about the latest trends/innovations?
A: The latest innovations in the bedding industry for commercial purposes would include adjustable beds, vibration massage, smart lighting, USB and bluetooth connectivity. Adjustable beds give the consumer the option to sit up in bed to watch TV or use their laptops/tablets/phones comfortably without the need to stack up pillows. USB connectivity allows for easy charge points for smart phones and tablets.
Vibration massage is a great way to relax after a long day and can be synced via bluetooth with your smart device to offer 'vibrate wake' or notification or call vibration settings. Smart lighting is another innovation to guide you throughout the night to and from your bed – the individual underside of the bed can slowly illuminate to guide when leaving or returning to bed in darkness.