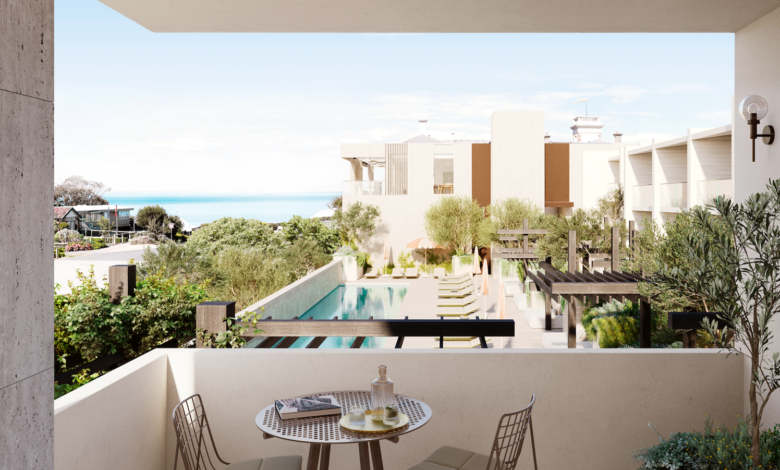 Hotel News
News
News In Brief
Refurbishment
Hotel Sorrento set to become a world-class resort
Hotel built in 1872, a third-generation family business that's been welcoming visitors for over 150 years, unveils its luxury transformation opening just in time for summer
In December 2023, the iconic Hotel Sorrento will unveil its biggest transformation to date, featuring a highly anticipated 30-metre pool, terrace, thirteen new luxury accommodation suites, a day spa and wellness facilities.
The expansion marks the most significant evolution in the hotel's history, positioning it as a world-class destination on the Mornington Peninsula.
The latest AccomNews print issue is vailable now. Read it HERE
Built in 1872, the third-generation family business has been welcoming visitors new and old for over 150 years and now, Rob and Anne Pitt along with their three children who run the business – Bridget, Myles and Marcus – are bringing their long-term vision for the hotel to life.
"This development represents a pivotal milestone in the Hotel's rich history, and we are so excited to share it with our guests, perfectly timed for summer," said Bridget Bailey, Finance Director, Hotel Sorrento.
Designed by Six Degrees Architecture and Jack Merlo landscape architects, the new areas draw inspiration from the ocean and peninsula landscape, and honour the building's natural and architectural beauty, promising guests an atmosphere reminiscent of a mineral-soaked holiday in the Mediterranean yet only 90 minutes from Melbourne.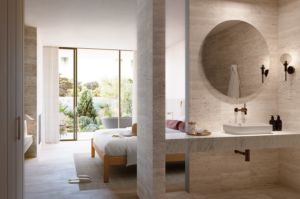 The new luxury accommodation suites have been designed with guest experience front of mind. The 13 new Sunset Suites are inspired by the hotel's natural surroundings and incorporate raw materials such as limestone, travertine and timber.
Expansive windows in each suite offer breathtaking views of the lush landscape and create a sense of tranquillity and connection to nature The Sunset Suites also feature outdoor marble baths, the perfect spot to end a busy day.
The new suites complement the existing portfolio of rooms, all of which have been recently refurbished. The Pool Terrace rooms are fitted out with travertine, timber floors and boast views of the pool and parklands.
Classic rooms are set in the original limestone building featuring balconies with views over the bay and town, while the Sorrento studios offer the ultimate in relaxed luxury with an expansive open layout, gas log fireplace and private balconies.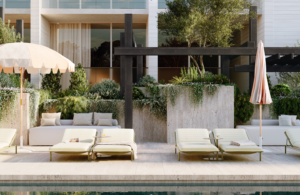 Just steps away from the pool terrace area, via a Japanese-inspired courtyard, guests will find Marlo Spa. Tucked away in a secluded part of the hotel, this hidden oasis offers a retreat from the world, encouraging guests to feel instantly relaxed.
The Marlo Spa team, renowned for their expertise and local roots in Sorrento, has collaborated to craft a bespoke treatment menu catering to all types of guests and their needs. From soothing massages to rejuvenating fire and ice therapies, the spa invites guests to immerse themselves in the ultimate relaxation experience.
A major drawcard is the surrounding pool terrace complete with a 30-metre lap pool set amongst an oasis of travertine walls, lush greenery and beautiful olive trees that evoke the Mediterranean seaside. Here, guests are invited to disconnect from the outside world, enjoy a cocktail on a custom-made Grazia sun lounge and watch the sunset over Port Phillip Bay.
Currently boasting five separate bars, two restaurants, private dining areas and conference facilities, the transition will see the seaside hotel transform into a coastal resort while preserving its rich history, family hospitality and stunning surrounds.
"Growing up working at Hotel Sorrento, it's a full circle moment to be working with my family to redevelop the hotel and create unforgettable experiences for both new and returning guests. It's not just about providing a place to stay, it's about creating a home away from home that reflects the heart and soul of Sorrento," said Myles Pitt, Marketing & Partnerships Director, Hotel Sorrento.
"This expansion is not an exercise in being different, it is about emphasising who we already are," added Bridget.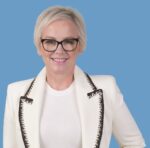 Mandy has over 17 years of accommodation and tourism industry writing experience and is Editor of AccomNews & Resort News, Publisher of SchoolNews & Director of Multimedia Pty Ltd. She is a retired registered nurse with a 25-year NHS career that followed a few unforgettable years in hotel housekeeping.