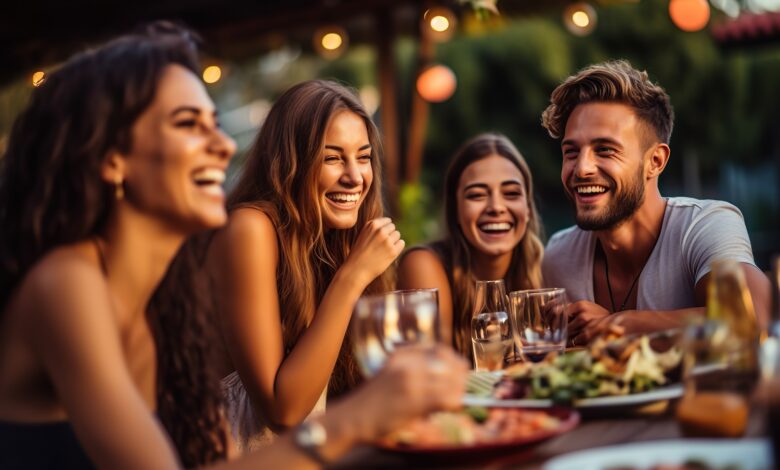 Guest Facilities
News
News In Brief
Refurbishment
Art of Alfresco: Comfort & style in an accommodation's outdoor spaces
How to set the stage for comfort and style in your accommodation's outdoor areas & elevate guest experience to the next level
In the Australian accommodation industry, the importance of creating an enticing and functional outdoor space cannot be overstated. While the interior of your property sets the stage for comfort and style, it's the outdoor areas that can truly elevate it to the next level.
The trends of dining outdoors has long been a favourite for Australians, but recent times saw this trend surge to new heights. The pandemic acted as a catalyst, turning open-air dining into a lifeline for many hospitality businesses. Alfresco dining has become more than a luxury – now a necessity.
Originally published in the latest AccomNews print issue, available now. Read it HERE
What makes alfresco dining so appealing?
It offers guests the opportunity to savour their meals in the open air, surrounded by the beauty of nature or the lively ambience of a bustling cityscape. But it's not just about aesthetics.
Outdoor dining spaces provide a unique opportunity for on-site restaurants and cafes to expand their capacity. This expansion is crucial in a world where social distancing and safety measures are still very much part of daily life.
However, the benefits of alfresco areas go beyond just creating more space. They can also have a significant impact on the bottom line. Research conducted by the University of Sheffield found that when customers are given the option to dine alfresco, they are 30 percent more likely to return to the restaurant. This translates into increased profits and the cultivation of loyal and returning customers.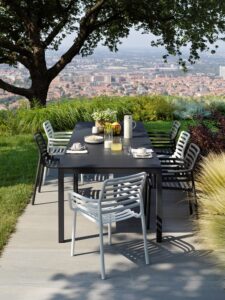 As we step into 2023, several key alfresco area design trends are worth noting
Trends are not only shaped by changes in the sector but also driven by the evolving demands of travellers.
Incorporate natural and sustainable elements into outdoor designs: Use native plants, recycled timber, and eco-friendly furniture to create lush and environmentally friendly outdoor spaces.
All year-round: Invest in essential elements like heating, shade, and lighting. From outdoor gas heaters and fire pits to strategically placed umbrellas and shades, these additions ensure guests are comfortable on a scorching summer day or a chilly winter evening.
Ambience: Lighting plays a crucial role but consider energy efficiency and maintenance requirements. To create the perfect atmosphere, consider layered lighting, combine ambient, accent, and task lighting and add a touch of magic with fairy lights or flameless candles.
Entertainment is also gaining traction: The addition of an outdoor cinema, live music, and table games have become increasingly popular, guests may even linger longer, and buy more food and drinks while enjoying the outdoor setting.
A tech-savvy makeover: Smart lighting, sound systems, and wifi connectivity are becoming standard because guests like to enjoy modern conveniences even while immersed in nature.
Accessibility and inclusion have taken centre stage in 2023, notably designated as the Year of Accessible Tourism in Queensland. It is important to create clear access and smooth pathways and offer diverse seating options designed for those who have accessible needs, this ensures all guests, regardless of abilities, can fully enjoy alfresco facilities.
Flexible seating: Allows guests to customise their outdoor experience. This may include versatile and modular seating options to cater to various group sizes and preferences.
Quiet spaces: For those seeking tranquillity, include some quiet spaces for a more calming retreat.
Ultimately, the goal is to showcase a property's outdoor spaces and harmonise with its natural beauty and outdoor lifestyle of the location.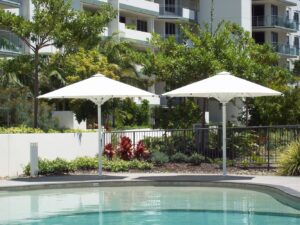 Amid all these trends, one factor stands out – the choice of furniture. The most important trend of all is to invest in high-quality, durable outdoor pieces designed to withstand Australia's sometimes harsh climate.
Industry leaders weigh in on alfresco trends in Australia…
With the onset of summer, it's essential to consider one top trend that can make a significant difference in outdoor spaces – shade.
Jason Condon, the owner of Daydream Leisure Furniture, stressed the importance of providing ample shade to beat the sweltering summer sun. "Commercial-grade, wind-rated umbrellas take centre stage as the key to achieving this," he said. "What sets these umbrellas apart is their ability to withstand the elements while providing a comfortable refuge from the heat".
Jason pointed out the significance of this trend in Queensland, a highly popular and family-friendly destination. He said: "Families seeking a holiday experience want their kids to enjoy the freedom of outdoor spaces while ensuring their safety from the harsh Australian sun. Commercial-grade umbrellas are a practical solution that not only ensures sun safety but also contributes to the beautiful holiday resort atmosphere."
He revealed, "Fibreglass-reinforced polypropylene is the most 'on-trend' material for outdoor furniture due to its resilience and ability to take many forms as a moulded product".
Dean Gesterkamp the Director of Kudos Furniture Australasia, shed light on one of the most compelling trends: sustainability and recyclability. According to Dean, "this trend is currently taking the spotlight, and for good reason".
He noted a growing awareness among consumers of the importance of sustainability and recyclability in the products they choose. "It's no longer just about functionality and aesthetics; people are making conscious choices that align with their values".
Additionally, Dean highlighted the rising Alfresco trend that demands for a broader spectrum of colour choices. He said: "Operators are looking for ways to infuse more personality and variety into alfresco spaces".
Flexibility in furniture is another key consideration. He said: "Lightweight and easily manoeuvrable pieces respond to the need for furniture to be rearranged or adjusted to suit the specific needs of guests, providing a tailored experience."
Ultimately, Dean underscores the importance of making outdoor spaces attractive and interesting. "The variety of choices available in the market today makes it easier for operators to curate the perfect outdoor setting. Whether it's through sustainable materials, versatile design, or an array of colour options, the goal is to create outdoor spaces that not only meet functional needs but also captivate and engage guests".

Sarah is a freelance journalist with experience across print, digital and audio. After working for Multimedia Publishing as a contributing writer, she has recently joined the team in a part-time capacity for School News AU and AccomNews.