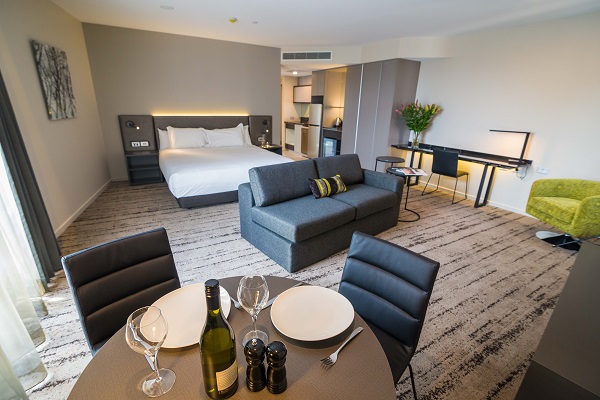 Swiss-Belhotel Brisbane, the first property to be launched in Queensland by Swiss-Belhotel International, has been listed on Star Ratings Australia's 2017 Gold List of Australian Accommodation. The list is reserved for prominent properties that achieve the highest Travellers' Rating scores, and Swiss-Belhotel Brisbane is currently ranked 6th for Queensland hotels.
To secure a place on the Gold List, properties must demonstrate a commitment to consistently exceeding guests' expectations, an objective that has been the number one priority for the modern four-and-a-half-star hotel since it opened last October.
"Swiss-Belhotel Brisbane launched in Brisbane with a goal to provide the pinnacle of comfort and services in Australia's dynamic east coast city and it has quickly risen to become one of Brisbane's top hotel choices," said Gavin. M. Faull, Chairman and President of Swiss-Belhotel International. "Earning a spot on the 2017 Gold List after operating for only a few months is an incredible honour and testament to the professionalism and dedication of the hotel team.
Swiss-Belhotel Brisbane is located in the heart of South Brisbane. Thanks to its prime location, the hotel not only boasts river and city views, but is also within walking distance of a number of commercial and cultural destinations including the Brisbane Convention & Exhibition Centre and Gallery of Modern Art. The contemporary styled property features 134 spacious guest rooms, as well as an indoor swimming pool, fitness center and café.
"As the first Swiss-Belhotel property in Queensland and the second in Australia, we take our role as a new player in the market very seriously," added Mr. Faull. "Being awarded a Gold Rating is a great achievement and we will continue to push the envelope in terms of providing guests with a hotel experience that not just matches but exceeds their expectations every time."