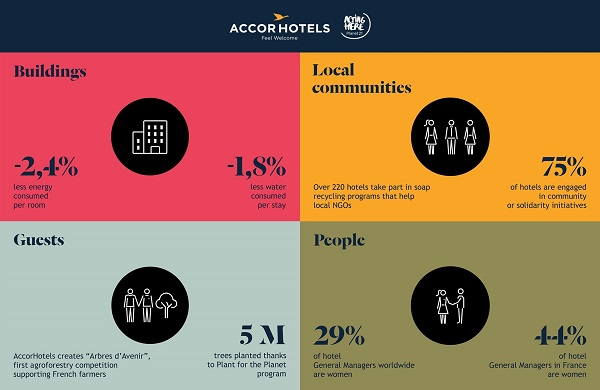 Hotels like The Sebel Kirkton Park Hunter Valley are setting new standards for local production and sourcing. The hotel now sources up to 30% of its menu from the hotel's 70 acre grounds and vegetable garden, with a further 50% from local partners.
The Sebel has an agreement with a local farmer who manages cattle and pigs on the hotel's grounds. The livestock is processed at a local abattoir ensuring that the full process remains local.
At The Sebel Kirkton Park, the emphasis is placed on creating menus that are ever changing to reflect the season produce. The hotel's executive chef regularly runs education tours of the vegetable garden for guests, providing an opportunity for guests to engage in a full sensory experience, picking their own dinner ingredients and building their understanding of nose to tail cooking and the steps from paddock to plate.
Less food waste
38 hotels in 13 countries are already using connected solutions to fight food waste in their kitchens and restaurants. The initiative has cut food waste by nearly 60% in the pilot hotels' kitchens. That's a total of $772,000 in estimated annual savings.
Novotel Brisbane has partnered with LeanPath, a leader in technology to fight food waste, to install a connected solution in its kitchen that weighs food before it is put in the bin. After using the device for a month, the 296-room hotel has reduced its food waste by 50% and saving up to $400 a week.
In 2017, the Group plans to launch the wide-scale deployment of these devices and implement a system to monitor the results obtained in all its hotels worldwide. In Australia, this initiative has the potential to change the practices of up to 170 food outlets national that serve seven million meals each year.
Targeting food waste that can't be avoided, 12 Australian hotels made donations to OzHarvest in Queensland, New South Wales and Victoria. During 2016, 6,390kgs of food, equal to 19,170 meals were donated by the hotels. A number of hotels also supported OzHarvest activities by providing access to their commercial dishwashers to clean food collection containers that are distributed to donors.