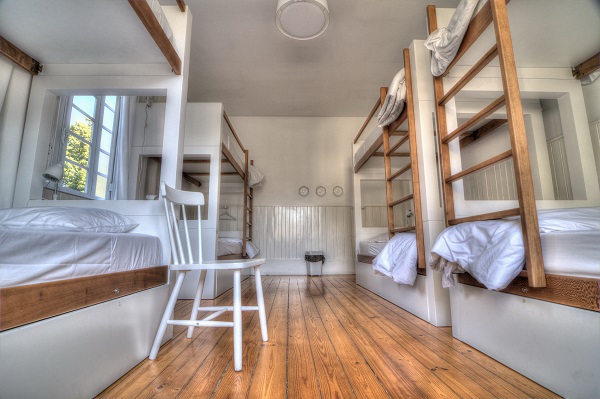 Industry
Get a new perspective on bunk beds
Bunk beds are not just a trend for hip and cool boutique hotels anymore; you can increasingly find them in luxury accommodation.
Granted, some guests only choose bunk rooms for economic reasons, and some families may only prefer a bunk room to a traditional family suite because of the value it offers, but there are some who like retiring to a luxury suite with a private balcony, bespoke linens and two sets of queen-size bunk beds!
In response to the trend for bunk beds, some luxury hotels have reconfigured some of their guestrooms, taking a chance on bunk beds and surprisingly they have been a hit. For those guests who wish to harken back to their youth, this room option is fun-filled as it brings back the spirit of pyjama parties and overnight revelry! For large families and budget travellers, these bunk rooms can make travel much more affordable because bunk beds allow several people to stay together for a fraction of the cost of booking multiple rooms.
Services like Airbnb also accommodate groups and often use bunk rooms to offer extra cost-efficiency without giving up prime locations and now many regular hotels are banking on the appeal of bunk rooms too.
Bunk beds are no longer just for youth hostels, holiday parks and family rooms; some of the trendiest, most luxurious hotels in the world have added single, double or queen bunk beds to inspire friendship and memories that will last a lifetime. These are not your average budget accommodation providers either, some of the bunks offer safety, maximum comfort and come equipped with LED TVs, wireless connections and, of course, nostalgia!
Family hotels, hostels and smaller accommodation providers have always recognised the benefits of adding extra beds to small spaces. The average backpacker may not be too concerned about the comfort, or indeed safety, of their bunk bed but the increasing number of families and posh-packers who are now travelling on a budget are looking for comfort and peace of mind but their primary concern is always safety… 
Children: danger
Consumer Protection Online warns of the dangerous injuries that can occur due to unsafe bunk bed use, most commonly when children fall from the top bunk. Children can also get stuck in gaps or get their clothes caught on tall corner posts. This may lead to serious or even fatal injuries.
The site states: "There is an Australian/New Zealand product standard that applies to bunk beds – AS/NZS 4220:2010. This standard is voluntary and addresses the design and construction of bunk beds. While this standard is not mandatory, trading standards strongly advocates compliance with the standard."
Accommodation providers need to take note that bunk beds are not suitable for children under nine years of age. They need to ensure that all ladders and guardrails are fixed and stable, check regularly for wear-and-tear and always repair any damage immediately.
They should also make sure that the mattress is suitable for the bunk bed, with no gap. And if replacing a mattress, make sure to check the proportions in relation to the height of the guardrail. Also, make sure that a bunk bed is always placed in a safe position away from windows, window cords and well away from fans.
Top bunks should have guardrails or bed-ends on all sides and the guardrails should be smooth and free from protrusions or potential snag points, with no gaps of 95mm to 230mm in any part on the bunk beds, including guardrail rungs on ladders. This is to ensure that small bodies cannot fit through but heads can still get stuck.
Once an accommodation provider has ensured that they are buying a safe product from a quality supplier that will fit into the designated space, they can consider design, style and combinations. Double or single bunks or a combination? What will best meet your needs?
10 things to consider when purchasing a bunk bed
Size matters: get the correct size bed for your space… king or single?

Look for an easy-to-assemble bunk bed.

Looks good? Bunks can be stylish too!

Can it be bolted to the floor to make it more secure?

Choose a mattress worthy of your guests; don't skimp because it is just a bunk!

Ensure past bunk bed flaws have been rectified, such as the mounts on the legs splitting or breaking and the side rails and platform slats bending.

You do not want wobbly beds so ensure that the bed is super-strong and very sturdy.

Don't buy a bunk bed that allows your guest to whack their head when sitting on the bottom bunk! Check for an extended gap between the platforms to give enough sitting space.

Consider a bunk that can be split in two, giving you options.

Always 'try before you buy' and check for comfort and safety.
Remember, bunk beds are an easy and cost-effective way to increase heads on beds and therefore increase revenue, they can also be cool enough to fit your vibe.
There are many bunk designs and constructions available from suppliers, and all accommodation providers have specific requirements, relating to functionality, style, size, room formats.
Traditional backpacker accommodations may seek a simple but strong, possibly steel construction due to high-use. These types of facilities may focus on strength and safety and a basic design.
Utilitarian designs may or may not be updated but these low-cost steel designs always appeal to the cost-conscious accommodation provider. Strong hardwood timber bunks offer a softness to design while also being strong.
Suppliers can offer utilitarian options in a choice of basic colours of painted steel, also timber in natural stain colours and painted finishes that complement the décor of any facility.
When using bunk beds in accommodations, an important tip is to use a lighter weight mattress on the upper bunk, to provide an easier 'make up' of the bed for housekeeping.
Another tip is to maximise space (if possible) by using the area under the bunks and beds for extra sleep surfaces available to pull out or store beds under these frames.
And, for travellers who use communication devices, including phones, tablets and other valuables, why not use under bunk or bed storage lockers? Safe and secure storage in these in multiple bed format facilities, is essential and this solution to save space is logical.
Industry opinions          
We spoke to Australian industry supplier of beds Peter Deveny, the group manager from A.H. Beard commercial,          about his thoughts on bunk beds in the industry.
Q: What popular bunk bed design options are available for different accommodations? And, how can these be customised?
A: Bunks are still a popular option, particularly in properties that are focused on families and other groups. Generally, unless the bunk is custom-made, the opportunities for change are mostly around the positioning of the ladder and the size of the mattress.
Q: What colours and styles are on-trend right now?
 A: Usually the most popular colours are blacks and dark greys as these tend to be durable and practical, hiding any scuff marks or scratches.
Q: What are the benefits/downsides of providing bunk beds?
A: The clear benefit is the ability to have more guests per room, so for large groups properties with bunks are a more cost effective solution. All bunks sold in Australia should now comply with the Australian Standard, AS4220.2010, so the quality of bunks on offer is far better than we have seen in the past. There are a handful of products in the market, including our model, which have Blue Tick compliance.
Bunks can be a little more difficult and time-consuming from a housekeeping perspective, so it's important that the access and ease of making the bed are considered in the room layout and product selection.
Q: Do you have an opinion on how important the quality of a bunk bed mattress is?
A: Like all bed selections, the right mattress is critical. In the case of bunks, it's equally important that you consider not only comfort and durability, but also how the mattress choice could affect the compliance to the standard. A mattress that is too high, or not high enough, may mean that the bunk/mattress combination does not in fact meet the standard, which could create major issues from an insurance perspective if a guest was to injure themselves by falling out of the bunk.
Q: What are the best storage solutions – is under-bunk storage important?
A: This is a decision that is best made to suit individual properties. Again, depending on the type of guest, and the availability of other storage in the room, it could be an important addition or just an added cost with little benefit.