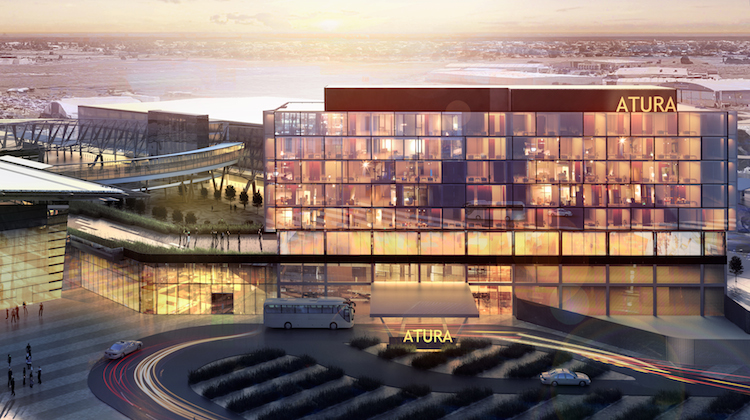 Construction has started on the new $50 million, 165-room Atura Hotel at Adelaide Airport. Event Hospitality & Entertainment Ltd (EVENT), will develop and operate Atura Hotels, a new seven-storey hotel directly adjacent the domestic and international terminal.
"We are thrilled to deliver Atura Hotels to South Australia," said Jane Hastings, chief executive officer of Event Hospitality & Entertainment, "Atura will provide the eight million passengers flying into Adelaide each year the opportunity to experience the Atura philosophy of value driven urban design, quality food and beverage, and great local hospitality."
Anticipated to launch in the December 2018 quarter, the hotel is being developed under EVENT's Atura brand and will feature a restaurant and bar, a business centre, flexible function and meeting spaces plus a port-cochere for guest drop off and collection.
It is estimated 350 construction and related jobs will be created during the construction works. Under the direction of its experienced local team in Adelaide, national construction group Built is appointed as the major contractor on the project having delivered EVENT's first Atura Hotel in Blacktown and QT Hotels and Resorts across Australia.
Adelaide Airport managing director, Mark Young, said: "The Atura Hotel will be a focal point of our long term vision to create an easy, seamless connection between our aeronautical activities and our planned Airport Business District.

"More than 8 million people fly in and out of Adelaide Airport each year, and many of our customers have indicated they would welcome the convenience of an airport hotel to enable catching early morning flights after meetings or conferences.

"There are more than 8,700 people directly employed on the airport and many business people fly to Adelaide to conduct business solely at the airport.  We expect demand to grow as passenger numbers continue to increase, and we develop our Airport Business District infrastructure and expand our terminal facilities.

"We believe the Atura Hotel offers a real point of difference to the airport precinct.  It's great to see construction underway and we look forward to welcoming the first customers late next year."

Premier of South Australia, Jay Weatherill, said: "The construction of this hotel is further evidence that South Australia is an attractive investment destination, contrary to what others might suggest.

"Adelaide Airport is the nation's fastest growing international airport with the recent additions of airlines such as Qatar Airlines, China Southern Airlines and Fiji Airways and I'm pleased to welcome Atura Hotel today."