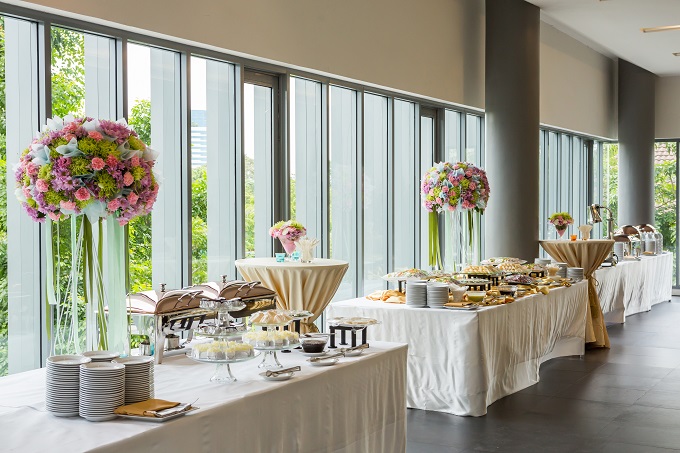 Unlike a comfy hotel bed or rain shower, dining and conference equipment rarely get great write-ups from guests or attendees – but if you get it wrong, you sure can expect to hear about it.
Comfort, accessibility and quality are all factors that contribute to great dining and conference experiences. Whether it be a comfy chair, a machine that makes a good cup of coffee, or particularly practical service ware, getting it right will make life and business easier for everyone.
Read the full-length article in this quarter's issue of Accom Management Guide.
Looking at recent research and customer feedback, we've cut out some of the guess work by identifying what guests value and what equipment is available to hotels and accommodation providers in 2018.
Buffet and service ware
Chances are, guests aren't going to comment on how appealing your buffet and service-ware is – in fact, they might not even notice it. That being said, they're sure to take notice of how fresh and appealing the food looks, which often comes down to how it's kept and displayed. What they want:
Keeping food at the right temperature is an obvious must, but often gets overlooked with large bowls of unrefrigerated yogurt or bottles of milk left out on breakfast buffets. CSIRO recommends that perishable food be kept in a cool or chilled environment, with the exception of some fresh fruits and vegetables.
What you need: Thanks to continually developing technology, serving equipment such as chafing dishes keep food consistently warm, can be elevated for display purposes, and come in a range of decorative styles. Many Australian suppliers offer stainless steel, copper, bamboo and other designs for visual appeal.
Options are also available for refrigerated drink dispensers and ice housing with built in cooling technology and acrylic inserts. Some even come with LED lighting!
Good decorative practice incorporates layers of elevation, not only for visual appeal, but also for practicality. When sourcing or talking to your existing supplier, consider discussing the latest in food hygiene, dispensary, design and commercial grade materials before renting or purchasing.
Seating
What they want: There's more to seating than simply providing a place for guests to rest their legs. Guests want a comfortable place to sit, but with new options on the market, they're sure to expect bells and whistles that you may not be aware of.
What you need: Whether it be dining or conference seating, ergonomics are paramount. While backless seating has grown in popularity over recent years, it simply isn't practical for a commercial environment.
Simple dining seating is more popular than ever, with many hotels ditching the chair covers, even for formal functions. Talk to your supplier about dining chairs that use natural and recycled materials, with ample back support and cushioning.
Conference seating, on the other hand, has improved exponentially over recent years, incorporating technology that allows delegates to do everything from changing their lumbar support to charging their phone. Some companies offer chairs that feature a flexible backrest for comfort, a range of charger connections, a coat hook, fold-out table, and can be stacked 10 chairs high for easy storage.