Two extraordinary examples of Australian accommodation feature on the shortlist for the prestigious 2018 World Architecture Festival.
Freycinet Lodge Coastal Pavilions and krakani-lumi, both in Tasmania, are among the finalists whittled down from 1,000 global entries.
Project owners are now invited to present their submissions at the World Architecture Festival in Amsterdam from November 28 to 30.
Taylor and Hinds Architects' krakani-lumi is designed as a standing camp set in bush land and inspired by the siting, materials and traditional half-domed forms of ancient Tasmanian Aboriginal shelters.
Krakani-lumi means 'resting place' and the project is the result of years of collaboration between the architects, the Aboriginal Land Council of Australia and the Tasmanian Aboriginal community.
The camp is located along an indigenous cultural walk within the wukalina/Mount William National Park.
Constructed from locally-sourced, native wood, traditional interiors are encased with timber cladding charred to increase its fire-protection qualities and help it blend in with the coastal banksia of its surrounds.
"[The architect's] design acknowledges the sophisticated nature of these traditional structures – carefully sited and well made – with storytelling and shelter interwoven in their design," says the wukalina website.
Each individual structure accommodates two people and the siting of the buildings takes advantage of the weather, with buildings designed to promote natural ventilation and capture cool sea breezes in the summer.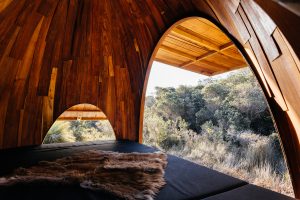 Freycinet Lodge overlooks the gorgeous Great Oyster Bay, with the Hazards mountain range providing a spectacular backdrop.
Liminal Architecture is the firm masterminding its renewal, with coastal pavilions taking the cue for their smooth and rounded forms from the coastal granite rock formations that dominate the edge of the waterfront.
The pavilions consist of a living pod and bed pod that converge, protecting the outdoor deck and offering privacy for the outdoor bath.
Like krakani-lumi, the exterior protective shell is made of durable hardwood that is charred – referencing the significance of fire in the bush context while increasing the longevity of the timber.
The pavilions are visually discreet, providing a recessive backdrop to the natural vegetation and filtered water views.
Australian projects feature across 18 of the 20 buildings categories of the 2018 World Architecture Festival.
Others on this year's shortlist include John Wardle's Learning and Teaching Building at Monash University, BVN's Australian Embassy in Bangkok, OMA's 2017 MPavilion performance space in Melbourne and Kerstin Thompson Architect's transformation of police stables into a studio for the Victorian College of the Arts.