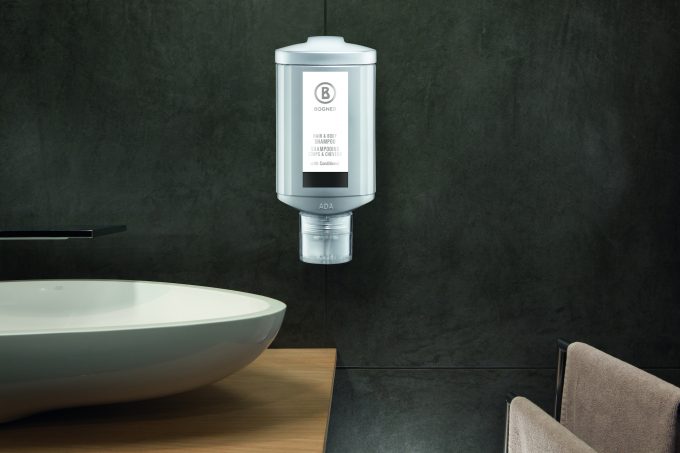 The world's hotels dispose of some ten billion pieces of packaging from bathroom amenities every year – and the vast majority of those products are only partially used.
In fact, research shows that up to 95 percent of the plastic used in a hotel room ends up in landfill.
Travellers expect good toiletries and amenities in their bathrooms, but they also increasingly expect their accommodation to meet green standards.
Some accommodation providers donate leftover soaps and shampoos to charities like Clean The World which will sterilise and distribute them to needy communities. However, recycling is only possible if there are resources in that vicinity to provide the service; so more often than not, the partially-used items get thrown away.
Refillable dispensers eliminate the need for individually-packaged products, reducing landfill waste by up to 70 percent while saving staff the time of replacing amenities.
Accommodation houses are beginning to incorporate the dispensers into their room design – and educate guests about the benefits of using them.
Those looking for green solutions will embrace the change, and those with little interest in saving he planet will still understand and appreciate the motivation.
Cost Savings
One of the great benefits of bathroom amenity dispensers is that you only pay for what's used on premises.
Individual packaging means half-used product is thrown away, or those handy little bottles are taken home to be employed on Billy's next school camp.          
There's a housekeeping cost to the daily chore of restocking the cart, cleaning up the bathroom mess and restocking the room. The Dispenser only needs topping up every 3 to 4 weeks, depending on occupancy.
And the waste removal cost for all the individual packaging is significantly reduced with refillable dispensers, while purchasing liquids in bulk leads to inevitable savings through economies of scale.
When looking at the overall picture, an amenity dispenser program saves accom providers between 30 to 70 percent of the cost associated with traditional amenity programs through reduced packaging, transport, waste removal and wasted product.
Dispensing with style
Amenity dispensers come in a dizzying array of brands, colours and styles to fit the look of any bathroom.
The latest sleek and stylish designs bear no resemblance to the chunky monstrosities of the eighties and include locking mechanisms with non-corrosive keys to help prevent tampering and vandalism.
They come in sets of one, two or three chambers – for customisation of shampoo, conditioner, and body wash combinations – and provide a choice of satin silver or chrome finishes alongside white.
Some manufacturers provide customisable options which allow for your brand to be displayed front and centre, or work with hoteliers to create designs that match current décor and can be inserted into the dispenser's face plate chamber.
Manufacturers understand the need to make their dispensers attractive as well as practical.
One industry insider said of their brand: "From the very beginning, we set out to make it a design of distinct beauty.
"Our first concept drawings set us in a direction of a fine fragrance bottle, a look that the privileged hotel guest would appreciate. 
"We have used bold, elegant lines, strong shapes, heavier materials and superior finishes to craft a guest shower dispenser that truly is an upgrade in every respect."
Gone are the days of filling those voluminous spaces with cheap and nasty product.
Top quality eco-friendly, organic brands are as available for refillable dispensers as they are for small amenity bottles – including AVIVA, Pharmacopia, PAYA, TOCCA and Tommy Bahama.
Practicality
With an ageing population, it's worth considering that amenity bottle labels are difficult to read, stiff tops can make amenities difficult to open, contents are often hard to get out and the little bottles and caps are messy.
Wall mounted dispensers are easy to access and easy to differentiate from each other, and they don't present a slip hazard in the shower.
In practical terms, wall-mounted dispensers can be attached using durable silicone adhesive so there is no drilling required and no damage to walls.
Quality models include pump and valve systems which are guaranteed for life and recyclable refill bottles with inbuilt reservoir tanks which allow the full contents to be used without any waste.
Washroom dispensers   
Public area dispensers come in traditional or electronic touchless versions and are made of ABS plastic or stainless steel.
Touchless dispensers are the ultimate hygiene solution.
They use a sensor to detect hands, meaning there is zero bacterial transmission during dispensing and no wastage from the economical portion-controlled dispensing mechanism.
Whether wall or basin-mounted, quality washroom models include functions to aid restocking – like a level indicator and an easy-to-use locking system.